Young blonde always used her gorgeous looks to gather the attention of men. When you are an insatiable nympho, you are forced to do so. Every morning she wakes up with the heat between her legs, but her fingers and dildos won't do the trick. She needs real meat, and she found it soon. This guy looked like he was packing a massive boner, and her instincts are never wrong. She will do anything for a gigantic shaft, so when a guy asks her to show her butt and then strip her black panties, she does it without any hesitation. The sexy blonde loves her body as much as men do, and can't wait to see his reactions. She already has a hard time controlling herself, so she plays with her pussy a bit, before dropping her top off. Both of her nipples are pierced, as that makes her come even harder. It's also a psychological thing, as guys fuck her harder knowing she is into S&M stuff. You can probably figure out what's next! The moment the blonde sees dick, she grabs it with her hands, gently stroking it before it enters her mouth. Now she is not in a hurry anymore – she got her toy and wants to enjoy it as long as possible. Next in the line is her pussy, and her favorite position is doggy style. The feeling that she is passive and can't control the situation makes her dripping wet down there. No wonder he can slide in so quickly like it's going through butter. It's almost too easy, as his shaft is already deep inside her vagina, and he didn't even play with her pussy. Her glorious butt is in front of his eyes, and that's the best motivation for him to continue. She likes the smacking sounds of his hips pounding against her ass as he fucks her from behind, her eyes rolling back. Now she is on her back as he spears her meat hole, but that's not enough for her. The young horny girl is also masturbating while dreaming about being gangbanged, so all of her holes are stuffed properly. When his hand ends up on her neck as he is chocking her, that's the ideal time for her to come finally. Her whole body is shaking as she waited for this for the entire day, but that is only the beginning. She needs a lot more, and he better deliver. It's not easy to satisfy such a bitch, as the man has to be in perfect condition. Luckily he knows how to perform, as they try missionary and cowgirl position. He is finally balls deep inside of her, but his horny girlfriend asks for rougher nailing. Her pussy needs a break, so she is back on her knees sucking it deep. This blonde babe loves sloppy blowjobs and acting like a cheap whore who doesn't have any limits. Even if she feels a bit of pain, that only turns her on even further. Once she came so many times that she lost count, he can finally cover her booty with loads of semen, like a proof he had a terrific time with her!

HOT GIRLFRIENDS CAUGHT FUCKING IN THE CRAZIEST AMATEUR PORN: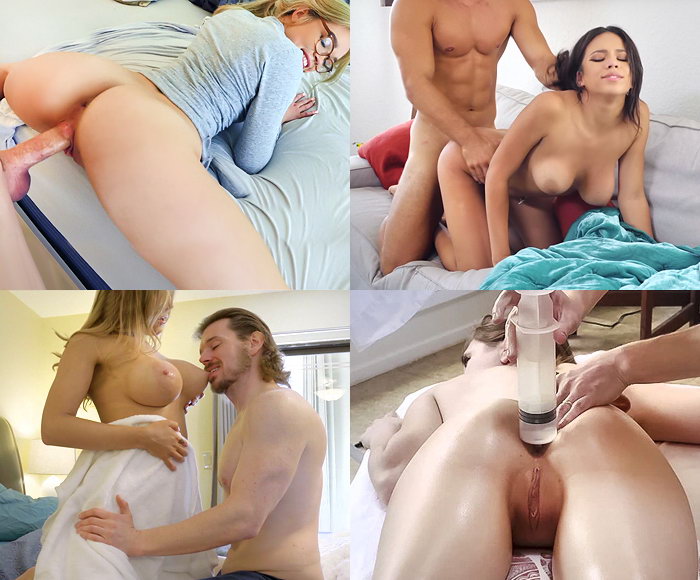 These girls might fuck like porn stars, but these amateur babes simply love being filmed while sucking and fucking their boyfriends. Watch as these amateur girls have wild, uninhibited sex! Most of the scenes are filmed in POV. The action happens in various places, like a kitchen, a messy bedroom, even a bathroom, so that does give you a homemade vibe despite the pro quality. See the real-life amateur girlfriends, and even send in your own sex tapes and earn some cash!