A beautiful naked woman is enjoying a luxurious shower – the water cascading down her voluptuous curves, soap clinging to her perky nipples and tight pussy lips. This erotic scene is interrupted by two local movers. This woman needs help moving and she hired a moving company to do all the heavy lifting for her. She was taking a shower right before they came and all she had on herself was a towel. She let them inside and they started moving. Noticing that one of the movers is just a cute blonde babe she asked her how she was going to move all of her furniture. The blondie said that it's her dad's company and that her boyfriend does all the heavy lifting instead. That's just fine with the curvy MILF who decides to invite the blonde babe over to the couch and chat with her. Has the guy noticed how this MILF is eyeing his girlfriend? Letting her towel drop just a little bit to tease those massive tits to the sexy blonde with beautiful blue eyes? The girl is amazed with the size of her breasts and the MILF invites her over to touch them. She does just that and it's an amazing experience. After that, the home owner decides to ask her boyfriend for some help with some furniture upstairs. The first thing that they need to figure out is how to move the bed but before they start doing that the babe asks him if he can check under the bed whether it was even in good condition. He goes down there and while he's there she takes off her towel completely and spreads her legs on the bed. When the boyfriend went up, he saw the naked woman on the edge of the bed, positioning her pussy slit in line with his tongue! He sees her clean shaven pussy lips and just can't resist but start eating it out, with a little help from the MILF of course. They haven't come down in a while and his girlfriend decides to go upstairs and check what's going on.

MILFS SHARE THEIR SEXUAL EXPERIENCE WITH TEENS: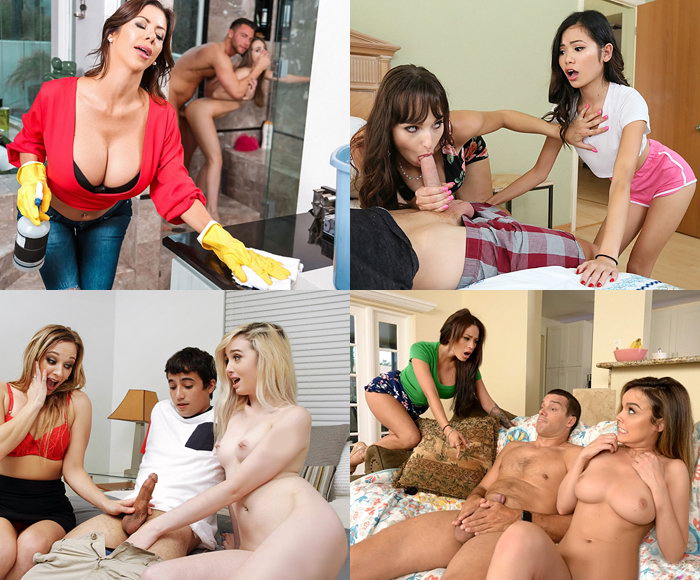 When teen girl gets there, she sses the naked woman sucking off her boyfriend! Rather than be angry about it, she wants to get on the other side and share his cock with her like she has seen in the porno movies. She is dripping by now watching another woman suck her boyfriend's cock. The girls both start to kiss and lick the head of his cock with their tongues, slowly moving their lips up and down. Two girls are sucking on his cock and that is only the beginning of the fun fuck session. They have one of the best threesomes and the petite blonde doesn't seem to mind at all that her boyfriend is fucking another woman, probably because the MILF is absolutely gorgeous, and no man would be able to resist her charm and huge tits. If anyone saw those huge tits, they would immediately want to fuck the bitch and that's exactly what happened. Two naked women take turns riding his cock and his face, both moaning in delight, kissing and licking each other's pussies and both with satisfied smiles on their faces. He has the two girls on top of each other pounding their pussies. He spreads his girlfriend's ass and licks from her clit to her asshole, moving up and down the length of her sex, then does the same to the other girl. He is going to cum so fucking hard all over them.