When your girlfriends best friend moves in with you, you might think that it's a pain in the ass at first. But let me tell you something, you couldn't be more wrong. Of course, I was annoyed too when I found out. First, you'll catch a couple of glimpses of her getting out of the shower. Then she'll leave the door open just a bit, so you can see her masturbating or just parading naked in her room. The bedroom door was open, and I saw her lying on the bed and rubbing her pussy. Then I noticed that it was not just a porn video, it was our personal sex video! Somehow she had opened up the secret app, and was scrolling through our homemade porn archive, masturbating watching me fuck my girlfriend!!! My girlfriend was surprised too but it had caused her to be turned on greatly. She grabbed my cock and I felt moistness of her lips close around the head of my cock. She wanted to suck my dick so much, and she did it right, swallowing every single millimeter of it, and twisting her tongue to make me nut quickly. She was making those sounds with my cock in her mouth, ready to get a full mouth of cum, when her friend noticed us! Her friend was so embarrassed and tried to cover herself. My girlfriend noticed that I was yearning for more, and that's when it hit her. My girlfriend is a very adventurous person, so she was also interested in experimenting. That's when she led me to her best friend's room, and the girls started making out and touching each other's necks and private parts. Obviously, after a while, they noticed that I was excited, and they were ready to bring me in on the action as well. Two naked girls started by sucking my dick but switching while they were doing that. The best feeling ever was when one of them was swallowing my penis, while the other one was sucking on my nut. That's like a heavenly combination.

THE HOTTEST GIRLS IN THE BEST AMATEUR PORN: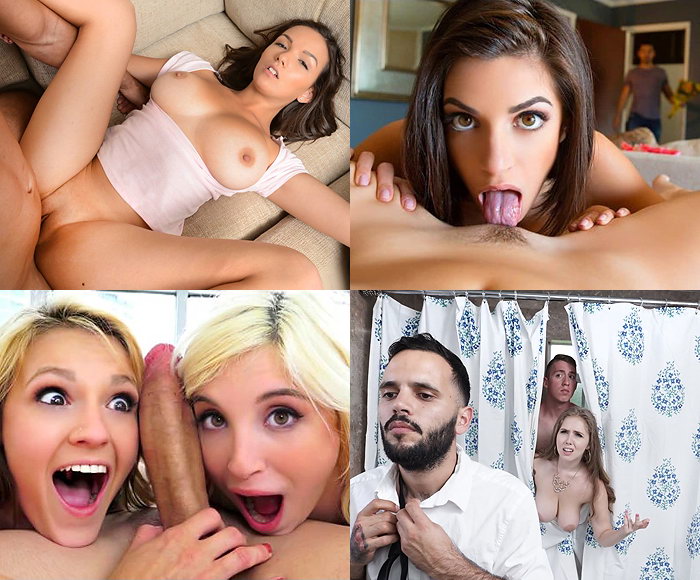 After doing that for a while, my girlfriend was preparing to get fucked by me, even better than usual. While she was getting ready, her friend was still sucking me off, almost to the point of cumming. After the naked girls were both ready, I was fired up, and I couldn't wait to get my chance to show them who's in charge around here. And I started with my girlfriend, pounding her reverse-cowgirl style, hearing her moan, and seeing her kiss her friend. And that got me so fired up, that I had to try the 'forbidden fruit,' which was her friend. And trust me, her pussy was amazing. After that, nobody could stop me. I just switched between the two of them, feeling their tight cunts pulsing from the pounding that they received. It was the absolute best feeling in the world, and I would undoubtedly repeat it. I was in heaven. Every man dreams of sex with two girls. My girl was so turned on watching me fucking another woman. The naked girls wiggled their big bubble asses with delight waiting for their turn to be fucked! The feeling was incredible, moving so swiftly from one pussy to the other. Of course, after the treatment I gave them, the girls were both silent and satisfied for the rest of the day. So, fellas, if you want to try something risky and experiment, I encourage you to do it, because maybe it'll pay off.