Have you ever had to stop yourself from getting a boner while a hot dentist checking your teeth? People play doctor in their sexual fantasies, but dentist? This doctor's assistant is a young blonde in her prime years, with a lot of sexual hormones boiling in her system. When the young lady is close to you, cleaning your teeth, just imagine her cleaning your boner too, imagine this sexy blonde with your big fat cock in her mouth. You won't want to miss this amazing hardcore porn video with the hottest dental nurse getting fucked by her boss. Going to the dentist can be hard and scary, that's understandable, but working at a dentist's clinic can be even harder with hot girls around. He just couldn't refrain himself and he had to suck her pussy, just enough to get it nice and wet for what's about to come next, which is a great fucking session, you already know it. He made his sexy blonde nurse spread her long and beautiful legs while she was laying on the classic chair in the dentist office, and started eating her beautiful pussy out, going deep between her pussy lips with his tongue, sucking, lapping and chewing lightly on her clit. She has the most beautiful body, her pussy, her tits, firm ass, her long slender legs, everything is gorgeous! After licking her pussy he just slid his dick inside her stunning pink and small pussy. It so hot watching his dick going in and out of her gorgeous pussy, not to mention how damn good her body is. The dentist keeps pumping her pick cunt faster and faster. After that, they put on a show that you likely won't forget in a long, long time. First, they started with just that, fucking on the large chair, but eventually, they moved on to various different poses, simply because the sex was amazing and you could feel the passion flowing through the air. After that, the time has come for them to do some serious raw doggin', aka the legendary doggy style pose, which is always a great solution if you want to spice things up, right? And it's easily provable, since the moment he put his dick back inside of her in that particular pose, you can hear her moaning even harder, just begging for more and more, each second making it unbearable for her since the pleasure was too intense.

CUTE TEENS TURN INTO CUM SLUTS: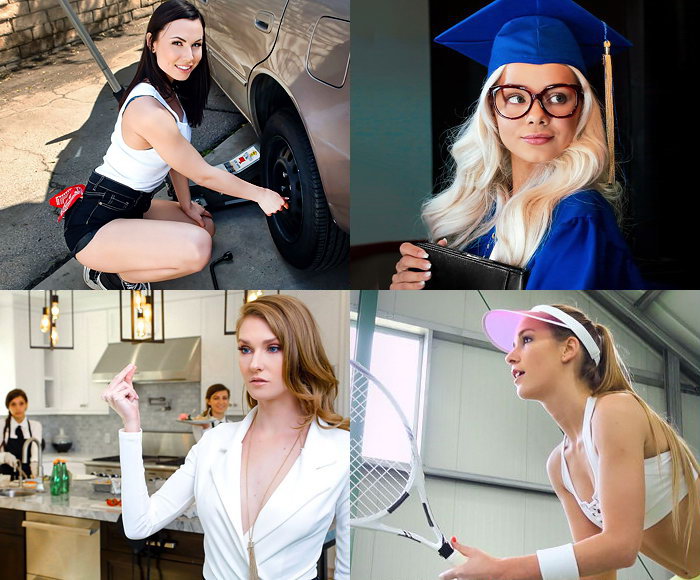 The sexy naked blonde was using her hands to spread her ass for a better view. The big man's balls were slapping against her clit as his cock brutally pounded her pussy. After the doc realized that his treatment worked and she was now totally relaxed, it was the time for her to repay the favor and let the doc take a little rest too. Naked girl did that by making him lie down still on the dental chair and then sitting on his dick with the intent of fucking his brains out. And for a while she did that, just hopping on his dick and making him feel good, but the good old doc here has too much experience to cum from that. He needs to lick her little cunt again, lick her asshole, and to let her put his whole dick in her mouth again, and after that, he let her hop around on him for some more time. That caused them both to cum instantly and this little slut was satisfied for the rest of the day. She was rewarded with spurt after spurt of hot semen all over her pretty face! Download the full video and you don't need to be afraid of going to the dentist any more!