Horny dude was sitting next to his sister and her hot friend, pretending he was having fun on his phone. Instead, he was filming the girls talking and jerking off to the sister's friend's beauty. He did a decent job hiding his cock behind his phone but, unfortunately, his sister caught him in his wrongdoings. He was desperately trying to come up with an excuse saying he was just fiddling with settings but she had none of it, went to his room, and tossed the phone under the bed. Luckily for him, sister's gorgeous friend was feeling intrigued and stayed behind her in the room, even after sister had left. She was this ravishing, young brunette with a tight, slim body who, apparently, was as naughty and kinky as she was hot. As he was coming from underneath the bed, getting his phone, she placed herself standing on top of him, giving him a good sneak peek under her skirt, showing that she had no panties on. Teasing him and asking him if he'd like to take a pic of her naked pussy as she was rubbing herself was good enough for him to take a hint. Hottie just lowered herself and sat on his face as he was still on the floor. Just moments later, the room was filled with brunette's moans of pleasure as he was slobbering all over her aching snatch and using his tongue to gently tickle her tight asshole. Cutie lowered his pants and pulled his already throbbing boner to jerk off and play with while riding his mouth. This is one of the best cunilingus scenes I've seen recently. I know many men dream of having such a sexy girl riding their face with her soft smooth pussy. Just pussy licking and stroking the shaft with her hands wasn't enough for either of them so they soon climbed the bed.

TRY NOT TO CUM WITH THESE HOT YOUNG GIRLS: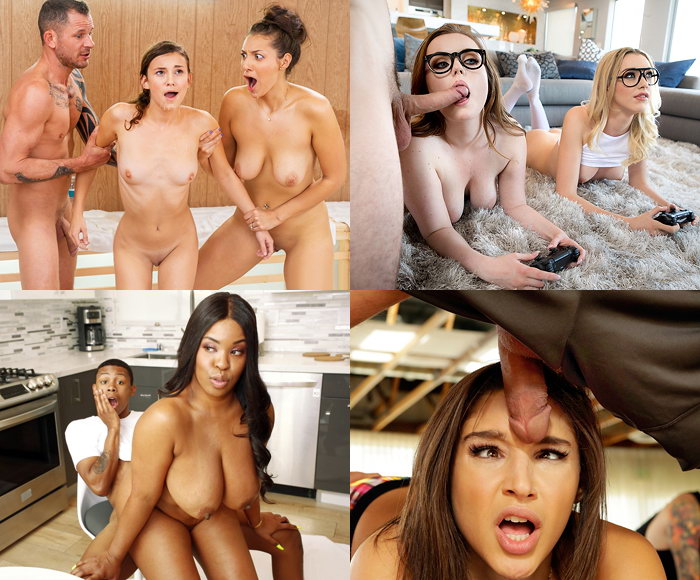 Not wasting a second, cutie placed her luscious mouths on his thick shaft and gave him a good, long lick, making sure his schlong was all slippery before entering her. Then, his sister's sexy naked friend straddled him like a slutty cowgirl and immediately impaled herself all the way down on a raging boner. They kissed, her tongue in his mouth, his cock fully inside her, his hands on her ass cheeks. Hottie moved her hips, arching her back, feeling his throbbing cock inside her body. He started drilling her vigorously, going balls deep inside her dripping cherry. She was enjoying herself, loving the feeling of a huge rod stretching her insides relentlessly. Their bodies rocked together. As she was still fully clothed, she took this opportunity of being hammered from underneath to start undressing. Soon, a pair of supple, perky tits was out, jiggling up and down in rhythm with hardcore pounding. Faster with furious passion their lovemaking grew. Eager to feel each other in every way possible, after long cowgirl riding naked girl turned around into a reverse cowgirl where he proceeded to pump her with the same intensity and even picking up the pace as time went on. Afterward, he took the initiative completely, placed her down, and rammed her like a true fuck doll. With a great scream the naked girl jerked with a power of orgasm. Even when his sister busted in and caught them in the act they wouldn't stop and, the moment she left, continued fucking into many intense orgasms. They had hot and energetic sneaky sex until he came all over her face!