Young babe with long black hair is horny 24/7. Her man doesn't know it, but she cheats him whenever she gets a chance to do so. She can't help it, as she is thinking about hard dicks the moment she wakes up. Now she found an excuse to spend some time away from her boyfriend, as she went to buy drinks and popcorn to the movie theater concession stand. The guy working there looks cute, so of course, she'll try to seduce him. But she is clumsy, so she spills the drink all over her shirt. At that moment, her boyfriend comes around, asking what is going on and accuse her of cheating. That is what makes her enraged, as she decides to fuck the other guy in front of him. In a second, she is down on her knees and sucking his massive shaft, as her boyfriend can't believe that this is happening. Even though she knows that this is wrong, the whole situation makes her so horny. It's one thing to fuck in public place, but it's even better that her man is here to witness how slutty she is. Plus, this is a challenge for her as she wants to give her best now. That's why she is deepthroating his shaft before hiking her mini skirt up and pulling down her panties. Her lover is now going deep inside her shaved pussy doggy style. She loves it every time she has a new dick inside of her snatch because it's a different experience. It motivates her to give everything she has like she is at an audition. Fully naked she climbs on his face and his tongue immediately seeking her warm hole. Beautiful naked girl begins grinding her sweet pussy into his face and he sucks on her pussy biting, licking and sucking on it.

HOT BABES CAUGHT FUCKING IN SNEAKY, RISKY AND CHEATING SCENES: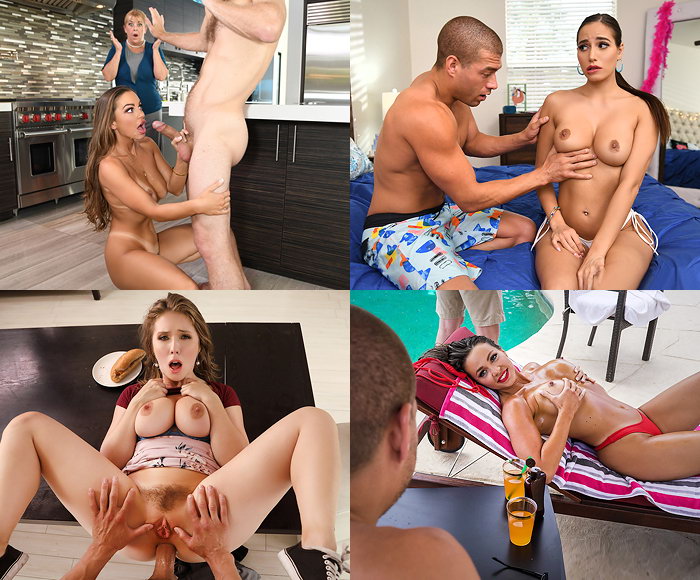 Hot babe would get the highest marks as she is doing everything like a porn star. Spreading her legs wide, she takes it balls deep while riding her man reverse cowgirl style. Once again, she takes that big dick doggy style, asking to be drilled even harder. This experience is a bit painful, but at the same time, she loves every second of it. Finally, she found a man with a cock so large that he could take her to her limits. At that moment, black-haired babe doesn't even care if someone will come in and see what is happening at the concession stand. Now it's time for the action to get rougher. As her tight pussy is pounded missionary style, her new lover puts his hands on her neck. Naked girl begins screaming with pleasure, telling how much she likes feeling his balls slapping against her clit. She feels helpless, like a sex doll that is here to give him pleasure. But even that is not enough, as she rubs her snatch, wishing this was a gangbang where all of her holes would be full of hard dicks. She's freakin hot! The girl already lost count of how many times she came before she felt that it was his time to have an orgasm. He empties his balls on her pretty face as she sticks her tongue out so she could taste his warm semen. This is what she needed!