This naughty young blonde babe is a real nympho. She woke up extremely horny, as always, immediately started removing her clothes to play with herself. She lifted her tiny shirt and removed her pink shorts, revealing her petite body and already wet pussy and started rubbing herself, softly moaning in pleasure. The problem is, she just can't get enough. Can't get no satisfaction. Pillows can't satisfy her, fingers can't satisfy her, HAIRBRUSHES certainly can't satisfy her. What will it take to get the job done and fulfill this sex nympho? At one point a knock on the door interrupted her. It was a delivery guy with a package for her so she hurried to get it. Anxious to open and play with the dildo she had ordered before, the sexy teen didn't care that she had opened the door completely naked, in front of the delivery guy, but simply slammed them shut back into his face and went to her bedroom. There, she started fucking her dripping cunt with a dildo while rubbing her clit with her fingers hornier than ever. She even used the fake cum in the dildo to pour it all over her chest, but that wasn't enough. This teen slut wanted the real deal and needed hardcore fucking so she left the note for her delivery guy to come in, knowing he'll be back soon with another package. He was about to knock when he saw the note and entered the house. It wasn't long before he found her completely naked in her bedroom. She was lying on her stomach, with her tight ass up in the air holding a large note with a hole pointing towards her juicy cunt "CUM INSIDE". Nothing but the genuine, throbbing, pounding, balls-deep real thing will get this girl where she needs to go. Delivery guy didn't need much convincing as he quickly buried his face between her ass cheeks, licking both of her tight holes, making her moan and beg for more. After such a short but sloppy oral session, he mounted her from behind while she was still on her stomach and started drilling her snatch balls deep right off the bat.

HOT TEEN GIRLS GET THEIR WET PUSSIES DESTROYED: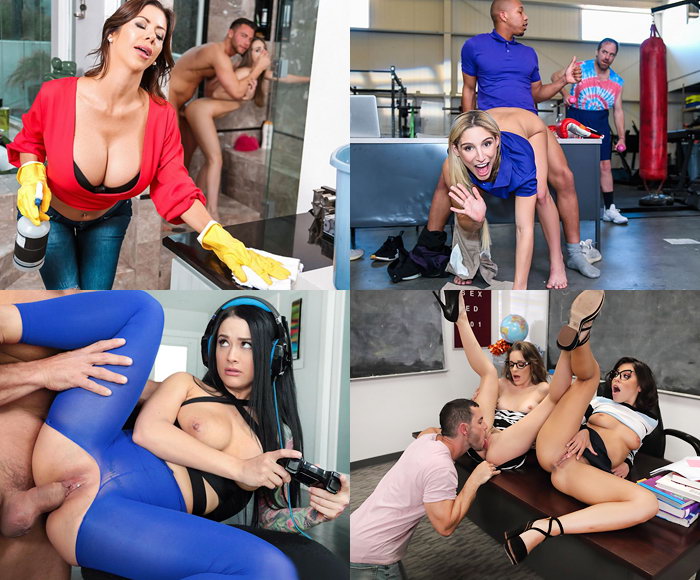 Naked girl started screaming in pleasure, feeling his massive boner stretching her insides and hitting her as deep as possible. Her screams made him even hornier and rougher. He grabbed both of her hands and held them behind her back, holding her tight and making her unable to move as he started pounding her vigorously. She was ecstatic, allowing him to use her tiny body as a sex toy, to hammer her any way he wanted. Oh, and don't pull out. Fill her up. She needs her cunt to be filled with hot cum. She craves it. They started changing positions. Naked girl first straddled him like a naughty cowgirl, impaling herself hard before he grabbed her firm ass and started drilling her again. As a short break, they went into an erotic sixty-nine, where the teen girl moaned with his huge cock in her mouth as he continued slobbering all over her pulsating cunt. From there on out, they just kept going faster and harder at each other, trying out all kinds of different positions, wanting to feel each other in every way possible. She came multiple times feeling his hot throbbing cock fuck her relentlessly and from every angle before finally making her guy reach his limits and asking him to fill her satisfied pussy with his thick, white load.