This chick is moving out to live with her boyfriend and she's leaving her own roommate to live alone. Everyone loves to live with their partner more than they like to live with a random roommate. However, when she brought her boyfriend over to help her move, this little slut just couldn't get her eyes off of him. He's tall, he's strong, and he's definitely hiding a beast in his trousers. This babe has only one chance to have some fun with her roommate's boyfriend and she's going to take it as soon as possible. The first time the girlfriend leaves the room and leaves the two of them alone, the Asian chick goes up to him and starts seducing him with words and touches all over his body. She even puts her hand over his trousers right where his junk is located. Any dude would go crazy if that happened to them, and this guy lost his mind. It was already hard enough for him to keep his composure seeing as how his girlfriend's roommate is so fucking hot, but now he knows that she wants him as well. This is going to be tricky for him, no doubt about it. As soon as the girlfriend returned, they started acting as nothing had happened, but it takes only one second for the girlfriend to turn away and the little bitch is taking off her pants and showing the boyfriend her pussy and ass. The view of her blad, sweet, smooth pussy and her cute little ass is something that he won't be able to resist. The next time the girlfriend leaves the room, the roommate goes to her knees in front of the guy and takes off his trousers only to pull out his cock. The tiny girl is amazed by how big it is and she immediately starts sucking on it. This small girl can't even fit the whole thing in her mouth and she's trying her best. And as she's sucking his dick the girlfriend is heard as she's coming back to the room. The boyfriend is crafty as fuck though and he covers the roommate with a box and hides behind it. The girlfriend is confused as to where her friend has gone but she doesn't make much of it.

HOT TEENS CAUGHT FUCKING IN SNEAKY, RISKY AND CHEATING SCENES: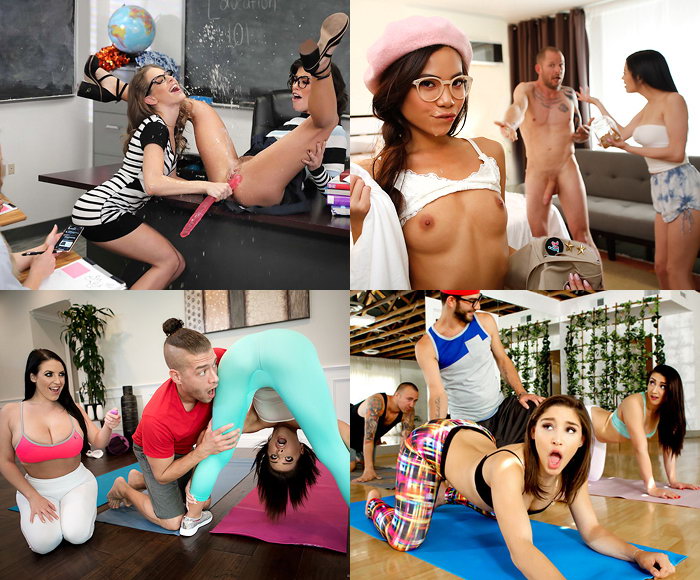 Meanwhile, the Asian slut has managed to make a hole in the box to make a sort of makeshift glory hole so that she can suck some more on his dick while the girlfriend is right there next to them in the same room. This is something that you don't exactly see every day and eventually the dude just can't take it anymore an as soon as the girlfriend leaves the room again, he throws the girl on the bed and climbs between her legs. He loves the sweaty taste of her pussy, it is so smooth, clean, tidy, with tight pussy lips, it is such a pleasure to lick her out. Her juice flow from inside her covering his tongue, making him mad with desire for her. He turns the little slut over and slides his cock balls deep into her pussy from behind, breathing a sigh as he feels the velvety grip. He starts fucking the living shit out of her. The Asian babe groans and pushes her cute little ass back harder onto his cock, making him fuck her harder. He covers her mouth with his hand, telling her to be quiet. It's a problem because his hard cock feels like heaven in her vagina. He starts thrusting hard into her. She meets every thrust with one of her own. She is so petite, he picks her up and fucks her standing. The way he is slamming himself hard into her wet, quivering pussy is amazing. He fucks her little pussy in pretty much every single position, and he doesn't even care in case he gets caught!