This drop dead gorgeous brunette doll has accepted the Try Not To Fuck Challenge! Will she be able to make it through? The premise is pretty simple: all she has to do is solve a Rubik's cube. Of course there's a twist! While she's solving it, this guy will be doing his best to distract her, and she needs to solve the cube before he cums, or else she will lose! She's sitting on the table while solving the cube, her pussy exposed as she gets it stimulated under the table by the guy. He sticks two fingers into her wet clam while eating her out, trying to knock off her concentration. While moaning and grunting, the teen girl does her best to stay focused on the cube. He gets behind her and rips her pink blouse wide open, exposes her small breasts and fondling them. He grabs her head and guides it to his crotch, shoving his dick in her mouth and fucking her throat. It's hard for her to keep her eyes on the cube with his member in her mouth, but she's still going. This girl is not giving up so easy! She knows she has to focus all her attention on the cube, but his dick is so delicious, she can't let go! Since women are good at multitasking, she attempts to do both. He's fucking her mouth and she's working that cube. He strips her fully naked and bends her over the table, pushing his dick inside her gushing cunt and plowing her from behind. It's so much harder to concentrate with that cock stuffing her twat. She knows she needs to keep her hands on the cube, but she needs to grab on to the table while getting plowed so hard and wants to rub her pussy too! She either concentrates on solving the cube or enjoying that hot fuck, so she chooses the latter!

HOT TEENAGE GIRLS CAUGHT FUCKING IN SNEAKY, RISKY AND CHEATING SCENES: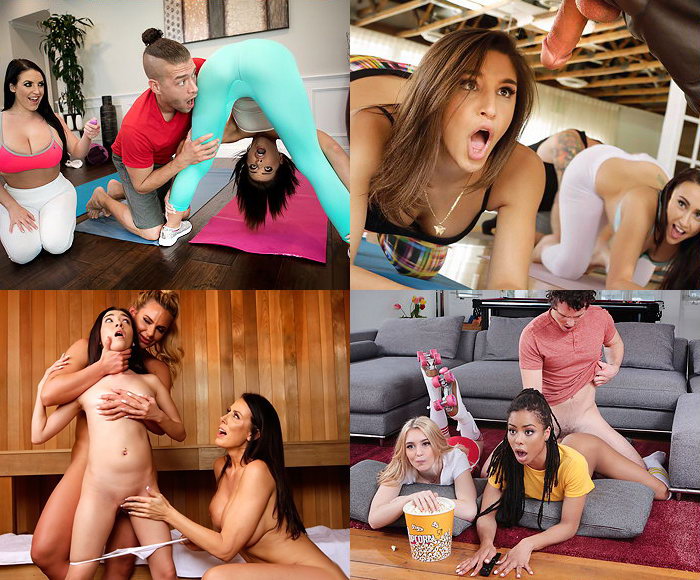 He turns the naked girl over and sits her on the table, spreading her legs wide open and pounding her in missionary position. He sits on the chair next to the table and the girl sits on his cock, feeling it sinking indie her tight pussy and riding it in reverse cowgirl position. She knows she already lost the challenge as soon as she let her hands off the cube, but it's okay, lose a challenge, win a fuck! Now she can focus all her attention on that wonderful cock that is giving her so much pleasure. The beautiful naked girl gets up and lets him bend her over the table and take his victory lap, plowing her from behind while she grabs the table with one hand and spreads her ass wide open for his dick with the other. The victory will be sealed with a huge cumshot that will mark him as the winner but she's not a sore loser, her pussy is just sore from so much raw fucking!