Every now and then you need a little bit of chocolate in your diet! Obviously, there's no better way to do this other than fucking a sexy black girl, and licking her from head to toe. Seeing this ebony cutie take a bath right in front of you truly is a blessing. Her tits are big and all natural, while her ass is perfectly curved and rounded. She rubs her gorgeous body all over and makes herself nice and clean, but obviously, she focuses a whole lot on her private parts. She rubs up on her pussy and titties, and seeing these amazing boobs will drive you crazy! It is almost as if she wanted to be caught by her hunky room mate while masturbating in the bathtub. He walks into the bathroom, and he freaks out because they're room mates and he has a girlfriend. The beautiful naked girl isn't letting him get off easy as she tells him she needs his cock since she hasn't gotten laid in a while. Once he gets real close to the bath tub, the black girl pulls his dick out and starts sucking on it! She is most certainly hungry for some delicious cock, and this stud can indeed deliver the pounding she craves so badly. So, once he whips his dong out, he starts pounding that tight little pussy from the back as hard as he can. He makes sure to dominate the black girl properly, and he makes her moan loudly with every thrust that he makes. Of course, she is very, very excited. The horny babe shakes her hips and moves them left and right as she's getting her tight little cunt drilled by this horny stud. He presses his head against hers while he fucks her and he chokes her a bit as well. The naked girl decides that she needs to have more control over what they're doing, so she leans on the bathtub for some support and starts shaking her hips while receiving the hardest pounding of her life. She then has her man sit down on the bath tub and she starts riding his cock. She does her best to keep her titties close to his face while he rubs on her clit. Her big chocolate boobs are bouncing around wildly! She enjoys this so much that she can't stop herself from moaning. Her tits bounce up and down while the man moves his hips and pounds her tight little pussy. She can't hold on any longer and with one more deep hard thrust, she explodes. "Ooooohhhh… fuuuuck… I'mmmm… cuuummmiiinnnn!"

THE CRAZIEST HARDCORE PORN YOU'VE EVER SEEN BEFORE: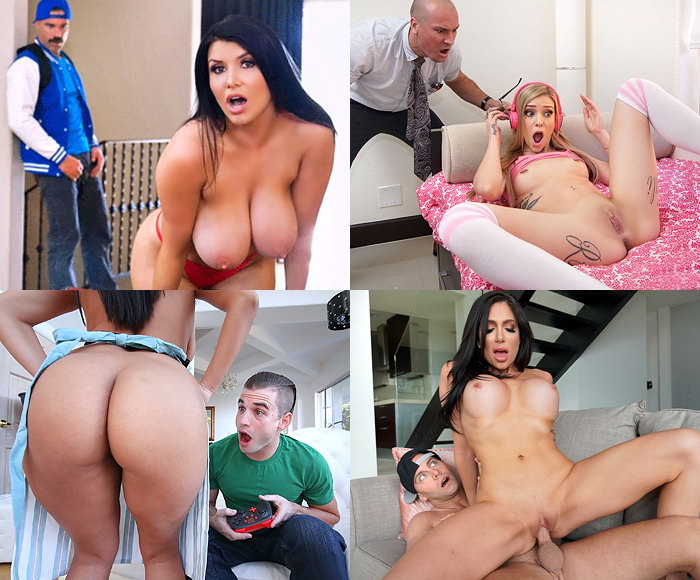 Then, they decide that it is finally time to switch locations. The hunk takes his horny roommate to her bedroom and keeps pounding her tight little pussy in the missionary positions. The girl can't contain her pleasure and moans with every single thrust that the man makes. As time goes by, he picks up the pace and shoves his cock deep and deep inside of the black woman's warm, fertile pussy. The hot black babe bends over and starts moving her hips on her own while keeping her chest firmly pressed against the bed and moaning. This seems to excite this man as his cock is visibly getting harder and harder as time goes by. He can't stand the tension so he starts moving his hips on his own once more and pounding the ebony cutie. He grips tightly onto her hips and plows her nice and deep. She gets fucked from different positions from the bath tub to the bedroom until she ends with a big load spread across her face.