This stunning busty girl was walking down the stairs, and it seems that her boyfriend was in luck, as seems to be quite horny. The sexy babe whipped her titties out in front of him, and she got his cock out. She licked her lips with anticipating of sliding his cock between her lips, kissing and sucking him, feeling him getting hard in her mouth. She started sucking on it gently, all while looking at him directly in the eye. She sucked harder and harder, making sure that the man enjoyed the experience completely. His girlfriend didn't forget about his swinging balls as well. Then, she got her ass out for him, pulled her sexy bodysuit aside, sat on his lap, his cock buried in her cunt and her big tits resting in his hands. She started riding on his cock and moaning loudly as the dude gripped onto her big fat booty and moaned silently as well. Her big ass bounced up and down on his cock, but she decided that she wanted to see the man face to face, and so she did. This time her titties bounced around in the dude's face, he truly enjoyed the sight, which was evident. Then, the amateur couple decided to switch positions once more, and the girl's booty was in the dude's face once more, and the guy simply did not want to get his eyes off it, not for a single second, which was understandable, seeing as the booty was an amazing one. Then, it was time for her to give head once more, and so, the dude gripped onto his big dong, and his hot girlfriend started sucking and moving her slowly all while gripping onto the dude's balls. The dude then stands up, gets some more head, and decides that it is time to bend the girl over and he fucks her from the back while gripping onto the girl's hips. Then, it was time for the girl to get on her knees because the guy wanted to cum on her face, and so he did. She had her hands on her boobs, rubbing and squeezing them while he was spraying cum on her tongue. Now, it was time for some 69 action.

HOT GIRLFRIENDS CAUGHT FUCKING IN THE CRAZIEST AMATEUR PORN: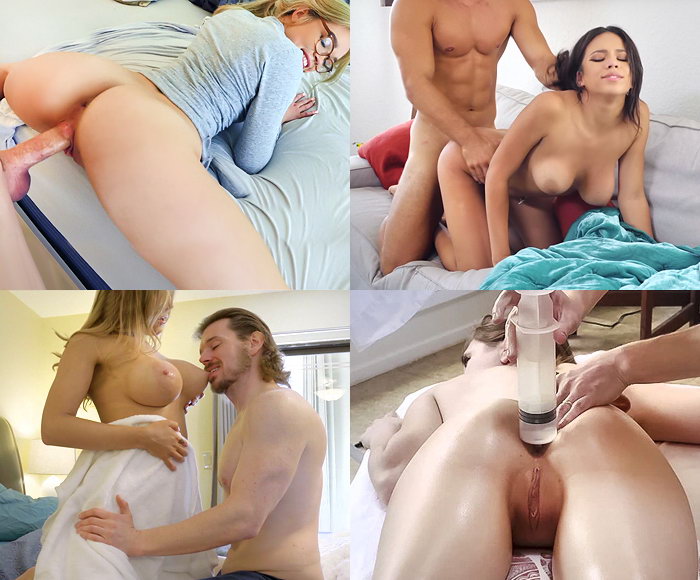 His naked girlfriend leaned down, her full tits hanging down right in front of his face. Don't miss this unique POV! The guy got his cum covered cock slobbered on by the girl, and soon enough, they moved on to some reverse cowgirl fucking. The busty naked girl started riding him and rubbing her clit. Her tits looked amazing as they bounced around in the dude's face, making him moan in tremendous pleasure. The girl moaned loudly as well, and she also stared at the dude directly in the eye as she bounced around on the cock. Her pussy was getting super wet at this point, and she could not help herself, so she had to scream out loud because of the immense pleasure she was feeling. She spread her legs nicely and started bouncing around on the cock once more with great enthusiasm. The movements of her hips intensified with time and she could not hide the fact that she enjoyed having the dude's meat all up inside of her tight wet cunt. Her thick thighs and butt made some gorgeous sounds as they slammed against the dude's legs. His girlfriend got her head back in the air as she was receiving the dick. Don't miss more amateur sextapes with real girlfriends!