My girlfriend has some of the most amazing tits out of all the women in the entire world. Every time I see them I go absolutely nuts. I mean, I don't even think that I'm worthy of them because of how massive they really are. She loves to tease me with her perfect breast as she slowly reveals her tits one by one. Today she did just that as she was hiding them behind a white towel. She took one boob out and then the other one and I could only stare in awe. Then my beautiful blonde girlfriend started playing with her tits and my dick went absolutely crazy. I was harder faster than you can say big tits. After she was done playing with them I decided that it was time for me to have a go at them. And so I started sucking on them and playing with them. I licked and sucked her nipples in my mouth while I fingered the other one. My babe gasped softly, feeling her nipples becoming erect with desire. The best part is that her tits are completely natural so they're really nice in the hand. The feel amazing and you can tell that she likes it when I play with them I kept one going and she was getting pretty horny at this point. I was hoping to get lucky with her today so I kept pleasuring her and eventually she agreed to give me a nice blowjob. She got between my legs and started sucking me off like a real pro in porn movies. It was obvious that she had a certain technique to the whole things which made everything so much better. I loved every single stroke of her hand as well as every single time she put it in her mouth. She pressed her sweet lips against the tip, flicking her tongue all over it. She began kissing the head of my cock. She popped one ball in her mouth, sucked it gently, and then popped it out to start on the other. Eventually, I came back to earth and decided that it was time for me to return the favor.

SEXY GIRLFRIENDS CAUGHT FUCKING IN AMATEUR PORN: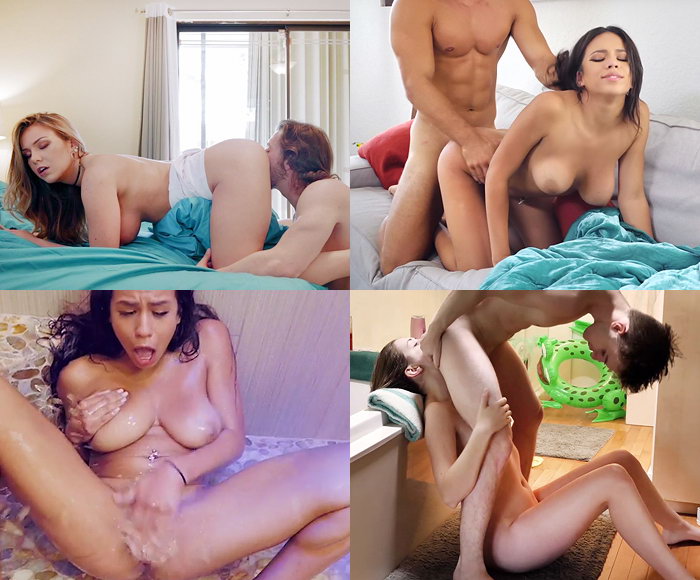 I licked her pussy from behind as my sexy naked girlfriend bent over and I also snuck in a few licks to her asshole as well. I licked her asshole really well and I was ready to have a go at her pussy. Finally, I lied down and she climbed on top of me. She started riding me like the sluttiest cowgirl ever. Her perfect jugs were sliding against my face as we fucked. She pushed a nipple into my mouth, I licked and chewed it like a baby would suckle on there mother. You could tell that she liked this position cause she just wasn't letting go of me at that point. I spread her legs and leaned down between them, kissing and eating and tonguefucking her beautiful pussy. I loved shoving my cock deep inside her over and over as she felt that it was going inside her inch by inch. And believe me when I say that I had plenty of inches to give her. I loved fucking her hard and she was taking it so hard up her pussy from every angle that it was only a matter of time before I came all over her amazing tits as I already came once in her mouth.