The first impression is essential, but can also totally be wrong. Just look at my girlfriend and me. When we met, she looked so cute and shy that I've thought we wouldn't have sex for a while, and once we do, I can't expect much from her. But what I've discovered is that she is a sexual beast! She is horny and perverted, and always thinks about something new we could try. Now that I have to leave her for a few days, her idea was to make a home porn video, so she can masturbate watching it while I'm away. That's why I feel this will be something special. What I love about her is that she likes to take control – the only thing I need is to drop my pants and let her take my cock inside her warm mouth. She knows what I like, so she has her glasses as she shows her deep throating abilities. When you see the happiness on her face while she is licking my balls, you can't but let her do whatever she wants. Always ready to worship my dick, her slurping and moaning is non-stop. Still, she needs a lot more than this. My hot girlfriend drops her tiny panties as her fat ass is calling me to fuck her. It's a beautiful sight to see her tight little pussy lips part and kiss the tip of my cock. I watch in amazement as her tightly closed little clam presses against the tip of my cock and suddenly pops open engulfing the tip of my cock. I notice how wet she is as my cock slides inside her pussy hole. We both pass out with my fat cock buried up her cunt. Now I'm fucking her wet snatch doggy style on our bed, as I enjoy the view. "Fuck me…ram that dick in there…harder…fuck me harder…" Penetrating deep into her belly, I pound at her cervix, my hips slap at her juicy ass each time, making her body shake and her tits roll. It's fascinating how her tight pussy is able to swallow my fat dick. Her moaning tells me that she enjoys every second of it.

THE HOTTEST GIRLFRIENDS CAUGHT FUCKING IN AMATEUR PORN: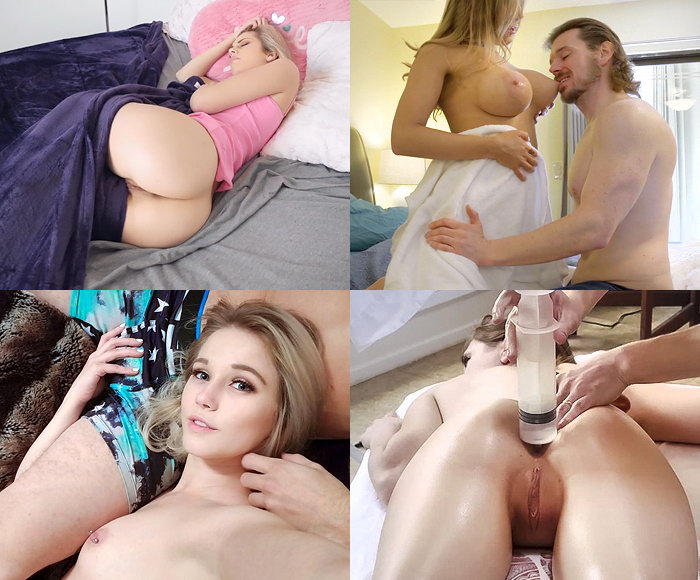 Her favorite position is a reverse cowgirl, as my babe can see my hard shaft entering her pussy balls deep. I'm always trying to test her limits fucking her harder, but no matter what I do, she can take it. Her nice round tits are jumping up and down, and I once again realize how happy I am. My balls slap at her asshole, and her big tits quiver wildly, with the thrusts. I can feel her cunt juices coating my balls. She moans, throbbing with pleasure. My babe is such a whore, and she would do this all day if she could. She would stay on top of me until she couldn't possibly move anymore! What we both like is when she turns into my sex toy, as she asks me to do whatever I want with her body. She doesn't mind anything as long it involves my dick drilling her meat hole. It's not sex for her until she loses count of how many times she came. The only break she needs is when she wants to taste her pussy juices, so she takes back my shaft in her mouth, playing with it like it's a lollipop. And to think I was a bit skeptical about her sexual abilities. Now that I can't take it anymore, I have to finish strong, and the only way my perverted girl likes. I come hard on her glasses as the semen runs all over her pretty face. The amount of load on her is a sign for her that I had a wonderful time. I love my slutty girl!