I got out of work early and I rushed back home because I wanted to surprise my girlfriend, but unfortunately I was the one getting surprised when I caught my girlfriend getting her pussy eaten out by that slut that calls herself her best friend! Her face was buried between my girl's thighs, she was licking and sucking her pussy, lapping her juices as a cat laps milk pot! I couldn't believe that my girl was having sex with a girl, as she never gave any indication that she was interested in lesbian sex. I thought our relationship was over! Totally distressed, my half naked girl stormed to her bedroom, yet her slut friend had a big smile on her face. How could she be such a bitch? She told me to sit down explaining to me that I was too fucking uptight and I needed to chill. Maybe she was right, after all, why should I get so upset because my girl likes getting her pussy eaten out by her friend? She's quite hot after all, a sexy brunette with tattoos all over her body and a free spirited attitude. While she called me down, she got between my legs, unzipping my jeans and giving me a blowjob! Actually, my cock was so fucking hard, even she was surprised as she popped it in her little mouth and begins sucking and stroking it. Fuck! Her oral skills were amazing, no wonder my girlfriend couldn't resist getting eaten out by her! Looking into my eyes she licked the head of my cock, flirting with me, there were strings of saliva from her lips to my big cock, she licked her lips with her tongue, then she took my cock straight back down, as much as she could. "I'm going to cum in your mouth.." "But we just started!" she replied. The hot teen told me to wait for her in the kitchen and she went to the bedroom where my girlfriend was. She pushed her onto the bed and started playing with her muff, rubbing it and eating her out. Then the naked girl returned to the kitchen, sat on the counter and made her eat her out. She was so hot and her body was just perfect. Perfect face, hips, thighs, ass, legs, breasts. Looking at her fully bare body and her dripping wet pussy I understood why my girlfriend wanted her. Now I also wanted to shove my mouth right between her legs, into her pink lips and suck on the fat, juicy clit that was hidden beneath those tight folds. "SUCK MY CLIT! LICK MY CUNT! LICK ME! DON'T STOP!" she groaned and grabbed my head holding it onto her cunt. Soon my girl came over and joined us for a steamy threesome fuck! The naked girls both got down on their knees and started sucking and stroking my rock hard cock with a naughty look on their faces. It was the dirtiest blowjob ever, their drool were everywhere! The girls slap mi dick against their tongues, sucked my balls and dick like crazy sluts! Then my girl bent down, spread her ass cheeks and yelled at me "FUCK ME!" I began pounding her from behind when she sucked her friend's cunt, making her squirt right in her open mouth! It was utter madness! We went to the living room and I lied on the floor as my naked girlfriend squatted herself on top of my cock and rode me in cowgirl position, with her slutty friend making out with her while I grab her juicy bubble butt in my hands. This was so motherfucking hot! The naked girls crawled on their hands and knees, sucking and stroking my dick some more. After slapping it against their wet tongues, two sluts wanted me to fuck the brunette doggy style. I was fucking her when she fucked my girl's cunt with her tongue, diving really deep into her vagina! Meanwhile I was busy pounding her cunt like mad, not letting her rest from constant orgasms. In her turn she was rubbing my girl's pussy with her palm so hard and fast that she couldn't stop squirting! The naked girls sat on the couch, with my girl riding my face and her friend riding my dick. "NICE AND DEEP! NICE AND DEEP! NICE AND DEEP!" the brunette was moaning. The way she twerked her perfect ass on me was something incredible! The bitch was so HOT!!!

HOT TEENS IN THE BEST POV, RISKY, SNEAKY, CHEATING AND ALMOST CAUGHT SEX: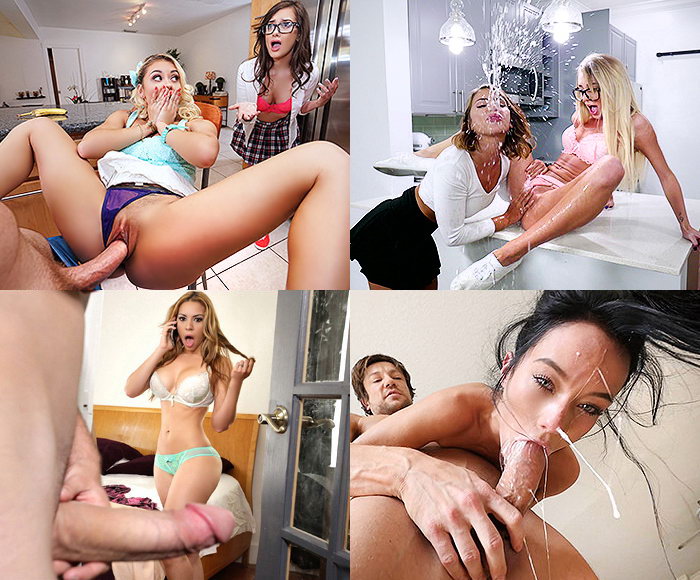 Then she spread her legs wide open and told me she wanted to have me inside her pierced pussy, she was so fucking hot, tight and wet! I was slamming into these pussies, pounding them, the naked girls both were crying out in pleasure. I pounded both of their pussies and fingered and licked them. We tried different positions and had a great time together, fucking all day long. Finally I couldn't hold back any longer, I pulled out of their pussies just in time to spray hot cum all over the naked girls! The brunette slut began to lick cum off my girlfriend's body, catching streams of sticky cum with her tongue, kissing with my girl and eating cum from her well used pussy. How could I stay mad at my naughty girlfriend and her slutty friend went catching them having hot lesbian sex allowed us to have the hottest threesome sex ever! Now we fuck together all the time!