I wanted to pay my girlfriend a surprise visit, but the only one surprised was me when I found her in the bedroom she shares with her roommate, naked and riding her face while her sexy roommate ate her out! I couldn't believe the way my girlfriend was grabbing on tight to the top bunk bed while grinding her juicy bubble butt, pressing her crotch against her roommate's face in hot lesbian action. I was already pitching a tent under my pants! My girl was wearing her red glasses, a sexy tank top and hot thigh high striped socks that highlighted her beautiful legs and fantastic ass. My girl flipped over and spread her legs wide open with her roommate on her knees worshiping her pussy. In that moment the lesbians looked towards the door and realize that they were not alone. Her roommate was a bit taken back, but my girlfriend was obviously super turned on by having me drop in on them this way. Matter of fact, she wanted us all to fuck together in a hot girlfriend on boyfriend on roommate threesome! The girls both got underneath and started licking my hard rod together. Her roommate was shy, but quickly opening up to us as she enjoyed my fat cock in her mouth. You have no idea how awesome it feels to have to wet and slippery tongues licking and exploring every inch of your cock and balls at the same time, drenching them in their saliva, it's so fucking hot! I was simply in heaven, two hot naked girls were sucking my dick together. If I was dreaming, I prayed that it should continue till eternity. They moaned with such pleasure and I realized that I was going to cum in their faces, but the girls wanted more! My girlfriend wanted to see me make love with her roommate! We took her to the lower bunk bed, spreading her legs wide open so I could fuck that delicious tight cunt in missionary position while my beautiful girlfriend watched us. My girlfriend guided my cock inside her while her roommate passed her hands all over her hot naked body, taking it all in, man! Her pussy was so hot and her juices were dripping out of her. I grabbed her by the hips and started fucking her fast. My girl rubbed her muff while I fucked her roommate and the sexy roomie played with my girl's tits. My girl took my cock and sucked it, tasting her roommate's pussy on it. I pinned their shoulders to the floor, back to back, admiring their wet pink slits and their assholes and fucking them hard in pile driver position in tandem. This was the dream, the fantasy, the one thing I had fantasized for years, the opportunity to pull my cock out of one pussy and putting it in another. When I fucked one, the other one watched! "Fuckin' hot, huh?" I pulled my cock out and inserted it back into a hot pussy. I slapped their juicy bubble butts and heard their moans and grunts of intense pleasure as I took turns fucking both naked girls so hard. I got on my back and the roommate straddled herself on top. The teen girl looked into my eyes as she lowered herself down, I watched as the tip of my cock prised open her wet lips. Her young swollen breasts were bouncing up and down at each movement of her body. She rode my dick in cowgirl, followed by my girl in reverse. Her bubble butt bounced up and down my lap as the girls took turns sucking my dick, riding it and masturbating themselves and each other!

THE SEXIEST NAKED GIRLS CAUGHT FUCKING IN AMATEUR, POV, RISKY, SNEAKY, OUTDOOR SEX SCENES: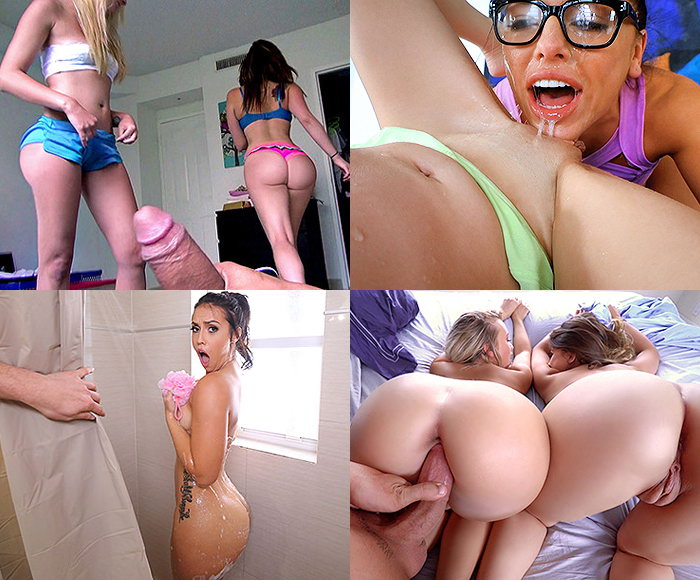 They pulled my dick off their pussies and sucked on it, popping it back inside them so I could keep banging them both. I suddenly realized that I didn't ask my girlfriend if I could cum in her roommate or not. The pressure kept building as I tried to keep myself from cumming in her. "I can't hold it much more…I'm gonna cum…I'm gonna cum!" "Yes, I want you to cum in her pussy!" At that moment my prick exploded inside of her. Hot jets of my semen spurted into her, blurp! blurp! blurp! Cum shot out of my cock each time I pumped. My girlfriend began cleaning the cum out of her pussy, using her tongue and fingers to scoop more from the vagina. Now my girlfriend's roommate has an open invitation to join us every time we fuck!