I finished cleaning the pool and invited my stepdaughter, a gorgeous blond, to take a dip since her mom was away. She was taking quite some time so I decided to go check on her. I guess I should have knocked first. I opened the door and saw her taking pictures of herself with her phone while wearing this skimpy pink swimsuit that barely covered her body! I told her she looked like a slut and I decided she needed to be disciplined, so I put her over my knee and started spanking her. The G string of her swimsuit was buried in the crack of her ass and with every spank, her body squirmed on my cock twitched, throbbing hard underneath her. I was getting fucking turned on, and so was she! The teen slut got down on her knees with her tits dangling loose as I pulled down my pants and buried her face between my legs, making her suck and stroke my huge boner. Man, she knew how to blow a dick! She swallowed my cock all the way down to my balls, making gagging sounds as she tried to take it all in. "I can't believe I'm sucking my stepdad's dick right now…" she moaned as she slurped my sausage and licked my balls. Believe me, I couldn't either! I couldn't keep my eyes off of my step daughter as she licked my cock. She massaged her tits while giving me head, spitting on the tip of my cock and spreading it all over with her tongue and fingers. I clutched the bed sheets, trying to keep myself from writhing around with such lustful pleasure as my step daughter now fully sucked on my cock. In general she made love to my cock as best as she could. I didn't think this would go much farther than a blowjob, but before I knew it, I had my hot stepdaughter totally naked and straddled on top of my cock, riding me in cowgirl position as I pressed her body against my own, sucking on her hard nipples and stuffing her tight cunt with my throbbing member. My hands were all over her young naked body as I flipped her over, spreading her legs wide open, banging her in missionary position. My balls were slapping against her as my cock drilled into her harder and harder. She continued playing with her tits and I jammed my thumb in her mouth and she sucked it like a dirty little slut. Only 18 but knows how to suck and ride! I rubs her slit with my fingers while slamming her hard on her bed and she moved up, sitting on my face, burying it between her legs, letting me tongue fuck her gushing pussy and tastes her delicious fluids dripping from her parted pink slit. That was arguably the prettiest pussy I've ever seen. Beautiful young girl with a lovely face and great unadulterated body. Loved the way she kept her eyes open when giving a blow job. She slid back down, pushing my fat cock inside her, riding me some more, telling me how much she loved getting fucked by me. Her teen body was being lit up with sexual shock waves of pleasure and she was quickly coasting to an orgasm. I pounded my cock into her petite body as hard and fast as I could. Her young pussy felt so good around my cock and the sight of her tits bouncing with each thrust of my prick made this scene unbearable. I figured there was no harm done as long as her mom didn't find out and I pulled out in time. Her mom doesn't let me fuck her without a condom, so fucking her stepdaughter bareback felt so fucking good, before I knew it, I was blowing my load… with my cock still inside her, but I continued to fuck her, unable to stop.

HOT YOUNG NAKED GIRLS IN HOT SNEAKY SEX SCENES YOU WON'T SEE ELSEWHERE: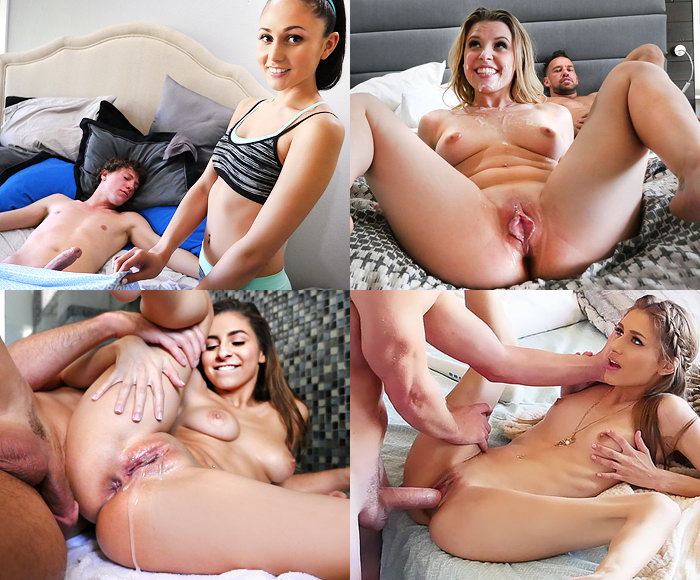 I couldn't hold back any longer, I grunted and yelled out at my step daughter, "FUCK! I'M CUMMING!" squeezing her both buttocks hard "AAAAHHH!" she groaned and my dick began throbbing and twitching inside her. Her pussy clamped down on my cock and she arched her back up as she now experiencing her own orgasm. Her pussy pulsated along the length of my cock and the sensation was incredible. The first blast shot deeply into her womb. I felt my cock pumping spurt after spurt after spurt of my hot semen into her body. She could feel my cum hitting her belly inside. My cum was pouring down her legs as I continued to thrust into her. Her vagina suddenly felt warm and wet and full. My slippery semen was oozing out around me dick. I looked at my step daughter and she kept looking up at me, the volume of seman was so great that it leaked out around my cock. "Am I your first?" I asked her. She jumped up and ran to the bathroom, carrying my seed in her pussy. White sperm was leaking out of her like a faucet. Fuck, I came inside my daughter and probably got her pregnant but it was worth it!