After cleaning the house thoroughly, this young real estate agent waited for her first ever client, so she was pretty excited. After realizing that there is a universal way for wowing clients, she knew what needed to be done. The little slut dropped to her knees, performing the sloppiest blowjob of this, with spit and everything you can imagine, but, this is not where she choose to stop. After sucking that dick, she also proved to us that she has mad game when sucking balls! After kissing his nuts and putting both of them in her mouth, she just sucked and nibbled on them until they were full of spit, and then she just left them like that in order to deepthroat that dick some more. After that, the real estate agent wanted to show him the bathroom where her client put her against the bathroom counter and just started fucking her pussy until she was screaming. With his hands on her shoulders, he began to drive himself into her, harder, harder, harder, as her face contorted with effort. As he slammed into her young tight pussy from behind, his thrusting hips slapping against her firm round ass and causing her buttocks to jiggle. When that pose ended, the next thing they did was pressing the young naked girl against the wall next to that same counter, lifting one of her legs up and ramming her pussy even stronger. We can see that expression of enjoyment on her face as she is getting fucked like the biggest slut on the planet, and we can clearly observe that she is loving it all. Rough and hard! This was also the moment where she realized that her pleasure centers were so overloaded that she couldn't even stand anymore, so the guy had to take the matter into his hands. Quite literally. He grabbed her legs and raised her up, fucking her some more in standing position. The girl was so tiny so it wasn't so difficult for him. The next thing in this clip is that great bed sex, which included a great doggy style segment where we see the girl moan and scream strongly. He held her tight, even though she was impatiently rocking her ass against him. He kept destroying her pussy, forcing her face into the blanket, muffling her yells.

CUTE TEENS TURN INTO CUM SLUTS: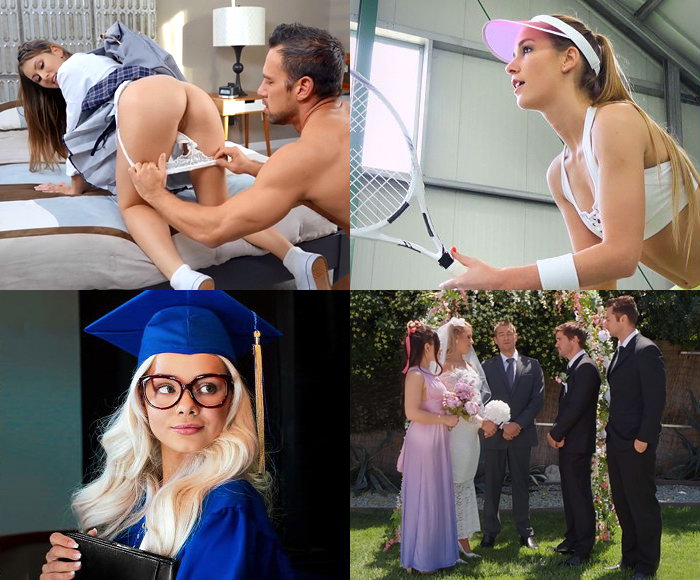 Then you can see some sort of a missionary pose where the naked girl spreads her legs as much as she can, and the dude just grabs her fucking throat and starts fucking her with great force. And they just did that for a while, choking her throat as hard as he can, but she was still smiling. After that, he just literally sat on her cute face and let her suck his balls while he jerks his dick just above her beautiful slutty face. Then (and this amazed me), she took his dick in her hands and started jerking it off herself, and with this, you must wonder… How much energy does this girl have? She is the biggest slut I've ever seen and you can just see that she enjoys what she is doing and begs for more and more. And then, it was the time to bring this back to where it began, which means what? Another deepthroat, you're right. As if her throat wasn't already fucked, once again she takes that dick in her mouth and swallows it whole. After that, she got a special reward that she deserves. The dude couldn't take it anymore, spurt after spurt of hot cum erupted out of his cock and hit her in the face. She couldn't hide her surprise. He grabbed the back of her head and pulled her mouth onto it, gagging her. He had came in her mouth but and his sexual appetite continued to be relentless and powerful. He turned the teen girl around and kept fucking her pussy from behind. Her pussy spasming against him as she came with him. It's great watching all of his cum dripping down her pretty face. Look at her now!