One woman is never enough for me! I have the pleasure of watching two amazing, young girls standing in front of me, stripping, kissing and teasing each other. The babes have these fit, slim, tight bodies with perfect breasts and already hard nipples. I watche as the blonde is sensually squeezing brunette's tits and using the tongue to stimulate her nipples before both of the naked girls drop on their knees and pull my stiff boner out. They immediately start sucking on it. It is the most amazing blowjob ever. The girls take their time with it, first stroking it slowly, then kissing each other softly with the tip of my dick between their mouths. It feels out of this world. The girls both are passionately slobbering over the head of my cock and each other's lips, licking it with their tongue and massaging my shaft and balls before the brunette takes initiative and swallowed the whole thing deep down her throat. I can feel my member throb in her mouth before the girls switch because the blonde wants a taste too. She is equally good at deepthroating and I am in heaven with my cock constantly going from one throat to the other as I watche one girl sucking on it and the other jerking it off with her small hands. "You've got such a big cock!" the girls cry. Ever since we first had threesome together they love to tell me how big my cock is. That goes on for a while, I can see they enjoy giving a sloppy blowjob together almost as much as I love receiving it, with their beautiful, blue eyes looking at me seductively as my boner disappears in their mouths. After that long and steamy oral session, I am as hard as I can be and they are already dripping wet. The brunette lies on her back and spreads her legs wide for me. Not wanting to waste a second longer, I am ready to fuck her brains out. Blonde guides my rod into her friend's soft cunt and goes on to kiss and caress her as I start pumping her balls deep. I try my best not to cum in her as I keep going faster and faster, watching the blonde rubbing brunette's clit, squeezing her breasts and nipples, kissing her sloppily and erotically.

SEXY GIRLFRIENDS CAUGHT FUCKING IN AMATEUR PORN: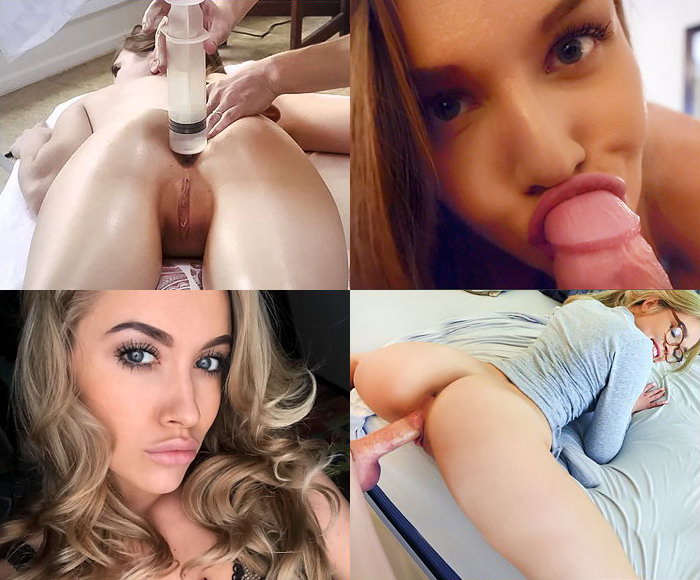 Inpatient and hungry for a piece of the action, the blonde mounts her face and starts rubbing her clit and pussy off of her mouth and tongue while I'm still going rough and hard, stretching and fucking the brunette. "I'm fucking cumming!" I ram my throbbing cock in deep and keep it there as her orgasm comes and goes. Then the naked girls change positions. I have the glamorous blonde bending in front of me, inviting me to rail her doggy style as she tries her best to lick her girlfriend while screaming in pleasure. The two girls begin sucking my cock once again, cleaning their juices off of it. They keep changing on my cock, riding it one after the other, every now and then taking it in their mouths and tasting our juices all over the shaft. They aren't neglecting each other either, because as one gives me a blowjob the other licks all over her cunt. After having multiple orgasms, I reache my edge too, pull out, and spray the hot naked girls both with a huge, sticky load. That is fucking amazing!