Today I met a sexy teen girl at the front door of my building in Barcelona. I asked her to let me in as I forgot the keys. The girl was the definition of Spanish hospitality, she helped me and offered some warmth from the cold. Many people have a prejudice toward girls with glasses. They think they are nerdy and have no clue about sex but take a look what happed to me after I offered her some cash! As we were going upstairs, I could not but notice her white panties flashing, and she figured out I was looking. Still, she was not angry, maybe she was not getting a lot of attention from the boys? I decided to try my luck, so I asked her if she could show me her bra for 50 euros. She did that in a second, and then I raised the bar by asking her to display her tits. No problem again, and it was worth it! I swear to you if I ever saw a perfect pair of boobs, this one was it. They are round and prominent, especially for a teenage girl that is small in stature. The sexy girl encouraged me to touch them and play with them, getting excited by the fact that we are in the public place. I stood there gripping her perfect tits, squeezing, rolling her nipples between my fingers. This teen slut raised the bar as she got down on her knees and started sucking my cock, even though I gave her more cash and asked only for a handjob. Still, by that moment, she was so horny that I could only relax and let her do whatever she wanted to. We could easily get caught but on the other hand, the level of excitement is hard to describe if you haven't done something like this. I had a hard time trying not to cum in her little mouth as she was looking straight into my eyes while sucking it. I've never seen a girl so happy that her mouth is full of cock as she is having a hard time breathing. Still, on the stairs, the girl decided to ride me. Gazing into my eyes she put the head of my cock between her warm soft pussy lips and started rubbing her clit and her folds with my cock. The beautiful naked girl was slid my throbbing cock along her wet slit, slapping at her clit with the head, teasing herself and me. Finally the little slut slowly lowered her pussy onto my cock, pushing the head of my cock between her moist lips. Her pussy was so tight that we had to go slow. I was barely inside of her, but I knew that with her dedication, things would get better. It didn't take more than a minute to have her going balls deep.

THE SEXIEST GIRLS CAUGHT FUCKING IN THE BEST AMATEUR PORN VIDEOS: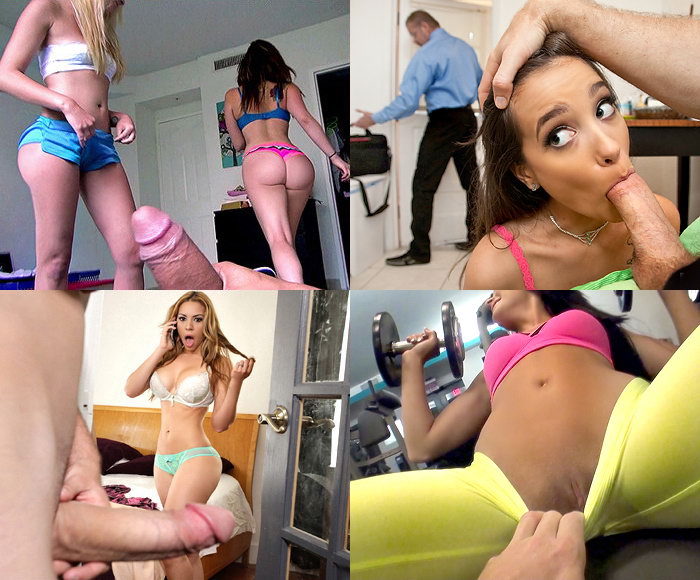 I wrapped my arms around her waist, squeezing her cute little ass from behind. Feeling my hands roaming over her legs, ass and tits made her ride me faster, slamming herself hard down onto my cock. The feeling of her young 18 year old pussy contracting around my cock was amazing. While we were trying reverse cowgirl, I could enjoy watching her tight butt and a butthole so small that it looked impossible for a cock to fit in there. I grabbed her waist and began fucking her with long hard strokes. Then she kept slobbering over my cock right there in the stairwell. The naked girl leaned on the railing and I re-entered her, holding her firmly by the tiny waste and fucking her while standing. She looked down, seeing every inch of my big dick rock her little pussy, stretching her lips. She could see the bulge of my dick push from insider her all the way up to the bottom of her pale stomach. After nailing her in standing position, I came straight in her mouth, as that smile was still on her face. Nerdy girls are the best!