Redheaded stepmom and her young stepdaughter are chatting about her recent honeymoon when the teen girl starts asking her about her sex life. Conservative mom avoids the subject but the step daughter finds her diary. "I want to learn how to fuck, I want to give a blowjob well, I want to know what it's like to cum on a BIG HARD COCK!" After getting a little bit too curious about her daughter's life, one thing leads to another for this sexy mommy, and next thing you know, she's choking on her daughter's boyfriend's dick! It's all up inside of her throat, and she's really struggling with it. Soon enough, mommy gets on top of that big cock and starts riding it up and down and moaning as it rubs her insides just right. Her stepdaughter gets her titties out and starts kissing mommy's neck as she bounces on that cock just right. The teen girl takes on a somewhat passive role and kisses mommy's body all over and makes out with her. She gropes her big titties and feels her pussy up every now and then, but she also makes sure to direct momma's hips while she rides her boyfriend's cock. The teen girl gets way too horny to hold back, so she gets on top of her boyfriend and starts riding his cock while stepmommy helps her out while she takes that big fat dick all the way inside her pussy. The sexy busty girl arches her back and starts riding harder while the naked redhead woman grips onto one of her titties tightly and makes sure her little girl can suck on it while she rides. Then, the naughty redhead spreads her legs and lets the brunette lick on it while she rides the dick. Her hip movements pace up, and she starts shaking them harder and harder while the dick rubs her insides. Stepmommy puts the cock inside of her mouth once more and swallows it completely. The redhead bends over now and lets the boyfriend take her from the back while she eats her stepdaughter's tight little pussy. He hits it from the back while his girlfriend moans from getting her pussy eaten out.

HOT BABES IN THE BEST GLAMCORE HARDCORE EROTICA: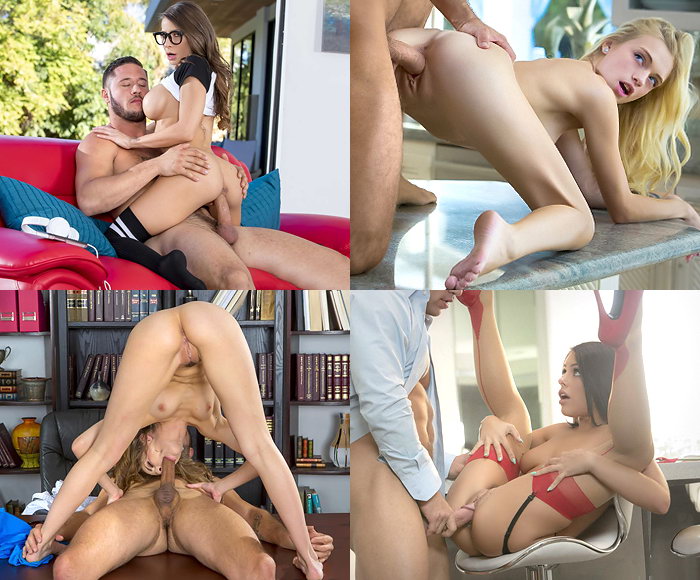 The sexy naked redhead stares at her directly in the eye as she rubs her clit and then makes sure to put her head down. Once it's close enough to the pussy, she starts licking on it. However, the stepdaughter feels like eating pussy as well, so she positions herself right underneath her boyfriend's balls and starts eating mommy's pussy and then taking the cock down her throat as well. However, her pussy isn't left alone, and mommy makes sure to lick it time to time while she takes the dick. The young busty girl then lays down and spreads her legs and takes her boyfriend inside of her while she's comforted by mommy's big titties that just so happen to be right next to her head. She holds onto mommy's arms while she takes the dick deep down inside of her. After taking dick for a long time, she presses her lips against it right next to mommy and starts licking it all over while focusing on the tip for the most part. Stepmommy's legs are then spread once more while the boyfriend plows her cunt and her step daughter sits on her face and gets her pussy eaten out. The boyfriend keeps pounding the naked babes, and the girls help each other by rubbing their cunts as the cock plows through their tight warm insides intensely.