You know how horny MILFs get when they want something. If they're hot enough, there's nothing that they can't accomplish. Such as this mom that just loves to take her daughter's boyfriends, seduce them, and then fuck them. The daughter brought her new boyfriend home for her mom to meet him for the first time. They sit down to eat spaghetti and the MILF immediately begins seducing the guy. She rubs his legs with her foot and he immediately tells that something is off. She keeps getting closer and closer to him with her chair. Her daughter doesn't even suspect anything and keeps on chatting about other stuff. The boyfriend is getting a bit uncomfortable at this point and he stands up from the table and storms off. The horny woman gets up as well and tells her daughter that she's going to get drinks. She goes to the kitchen and that's exactly where the boyfriend is at, at this point in time. She goes down on him and starts unbuckling his pants. He has no choice but to just stand there and let the MILF do whatever she wants. I mean how could you ever say no to a woman as hot as this redhead babe. The mom is 50 times hotter than her daughter and has an amazing pair of tits. Not only are her tits amazing and big, but they're also natural which gives her a huge plus when seducing the boyfriends of her daughter. So the dude just can't say no and the MILF ends up pulling out his cock and she starts sucking on it like a complete slut. She loves the taste of his young cock and keeps going harder and faster with each second that passes of her sucking on it. She keeps sucking and then she seduces him by just teasing him for a bit. After the MILF is done with that she begins to suck even harder and even deepthroats him a bit to get him all riled up. Just as they're about to cross the line of no return, the daughter comes along and they quickly have to hide.

THE HOTTEST MILFS SHARE THEIR SEXUAL EXPERIENCE WITH TEENS: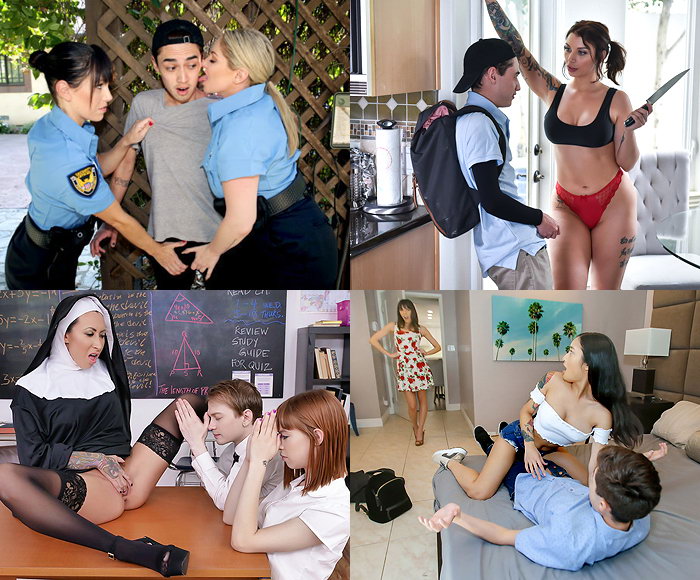 The horny mom comes out and tells her not to worry about those drinks and that she's coming right back. She tells her off and gives her a nice slap on the ass as she goes away. Then the gorgeous redhead woman gets to continue with her dirty adventure with her boyfriend as she sits down on the kitchen counter and spreads her legs with her panties pulled down all the way. The boyfriend starts sucking on her red pussy and licking it. The redhead slut can't wait to feel his young cock in her cunt. She spreads her legs so that the young stud can stand between them and slide his hard cock right into her wet cunt. He starts fucking her hard and he doesn't hold back with the force that he fucks her with. The hot naked woman takes all of the pounding extremely well and she even rides him as well. Her gorgeous tits fly up and down while she rides him like a cowgirl. Her sexy red hair bounces back and forth as she gets pounded by some young beef. They even almost get caught by her daughter! This sut may not win mom of the year, but she wins MILF of the year for sure!