I can't say that my girlfriend is religious, but she loves Easter! In the last few weeks, she reminded me about it on a daily level, while acting all mysterious. I asked her to tell me what is it all about, but she explained that I'd have to wait until Sunday. Easter came, and I was enjoying my rest after a long week. Dressed up as a bunny, she went under sheets and pulled down my pants! I was still half-asleep, wondering what is going on, but she continued her perverted mission. Isn't sex on the Easter morning the wrong thing to do? I guess this is not a tradition, but, we can make one, starting this year. I mean, be in my shoes for a minute. It's a beautiful morning, and my gorgeous blonde girlfriend is sucking my cock as a way to wake me up. When she was sure that I'm ready for the action, she stripped down in a second, displaying her gorgeous boobs and a massive ass. We've been together for a while now, but every time I see her naked, my boner gets rock hard in a second. Also, she genuinely enjoys giving blowjobs, like the one she gave me this morning. Sometimes when I get back home and watch a game, she comes to suck my dick for an hour or so, taking her time as she plays with it. It's her favorite she told me, and now I know that she was dead serious about it! After a bit of foreplay with a vibrator, I threw her on the bed and started nailing her missionary style. While I'm already trying to go balls deep, she is playing with her pussy. A lot of girls feel ashamed to masturbate in front of anyone, but I'm so glad that she is different. Within pure seconds, my balls exploded, shooting my cum into her cunt, filling her vagina. I pulled out and we both watched as my cum started to drip from her slit. What my girl loves about me is my unique talent, as I'm able to come multiple time. I already creamed her pussy once and she wanted me to keep cumming and filling her cunt up. She was in a doggy style position, taking my dick balls deep. My muscles flexed as my cock spurted inside of her, filling her cunt up with white cream. She laid there catching her breath, another creampie was leaking out of her pussy.

THE BIGGEST CREAMPIES FOR THE SMALLEST PUSSIES: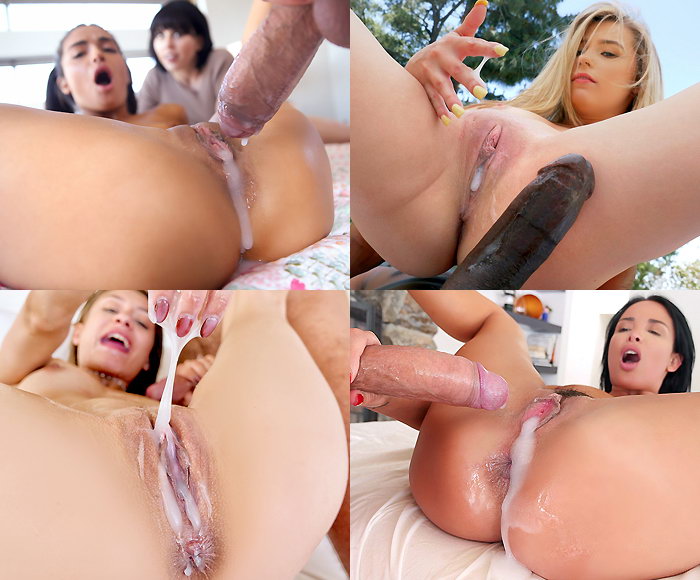 I had came two times, but my dick was not ready to give up as semen was once again running from her meat hole. We are a perfect combination, as she is a nympho that can go for hours. It's a rare talent, as my previous girlfriends were not in her league. Her hands clutching the sides of the bed as I continued to spew my cum inside her fucking her from behind. Sperm was leaking out of her pussy as well as smeared all over her firm ass. Finally, I decided to test her limits by letting her ride me as I tried to go as deep as I could. I grabbed her waist and started slamming into her cum filled cunt as fast as I could. My balls began making a wet slapping sound as they collided against her ass with each thrust. "Oh yeeessss. Oh fuuuuccccckkkk," my babe shouted as she felt me spurting my hot cum inside her. With each thrust more was sent deep into her and the feeling of the hot cum triggered her own orgasm, her pussy squeezed to milk every drop. Finally, it was the time to give her my Easter present, making her face messy. She made me a huge fan of Easter, although I hope we don't need holidays to stay at home and fuck the whole day!