This dude goes with his bitchy wife to the salon. He sits down with the rest of the ladies at the salon, who notice how much of a bossy brat this wife of his is. The girls are staring at him and looking at him seductively. One of them feels sorry for him. He'll spend hours there waiting for his wife to finish her pampering. Her tits are out, and that triggers him to start kissing her wildly, while the rest of the girls can't believe what they are witnessing. It seems like they are enjoying the view and won't say a word to his wife, letting them play the perverted game. While his wife's complaining and getting her hair washed, her husband's being seduced by the sexy slut, who knows what husbands actually want when they get dragged off to the salon with their ungrateful wives – someone to suck and fuck their big dick while they wait patiently! So remember ladies, there's a reason why you don't bring your husbands to the salon, and that's because you never know when a cock craving cutie will be waiting to seduce your man while you get your hair done! One of the ladies at the salon starts filming them and the horny blonde continues her impressive deep throating session, taking it all in. She doesn't care about anything other but using his dick the best way she can. Now it's his turn to return the favor, as he licks her dripping wet pussy and tight asshole. He starts drilling her meat hole doggy style and soon enough she already came two times. The sneaky sex next to his wife makes her horny as never before. Other girls enjoy the situation, filming everything and even posing for the selfies, as they can't believe this is still happening. They are having fun, but both of them would rather take her place and ride his enormous dick. Fucking in plain sight and acting like no one around is such a turn on. She enjoys acting like a slut, knowing that other girls an the salon were dying to take her place. The fact that they can be caught any second by his wife is a big turn-on!

THE HOTTEST YOUNG GIRLS GET THEIR LITTLE PUSSIES FUCKED HARD: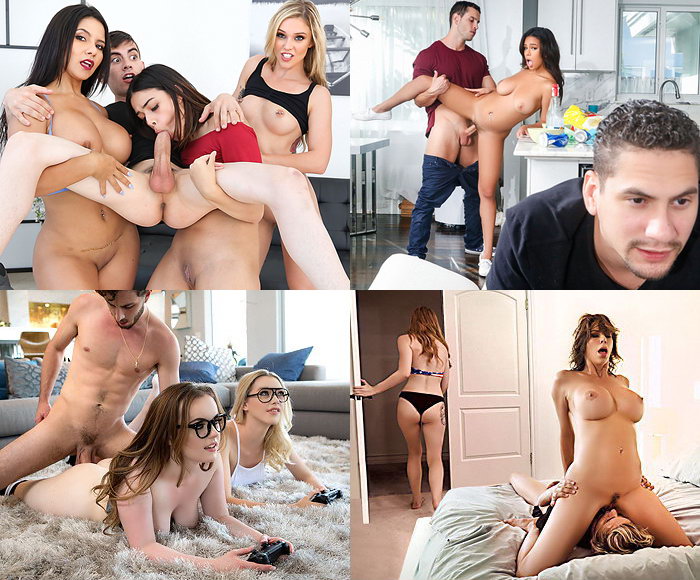 Now the blonde slut is back on her knees, with a new mission – she has to take his cock balls deep in her mouth and up her throat. Perverted blonde manages to do so, to a massive surprise of everyone. She lost her breath, and her face is messy, but she finally did it! The rest of the girls only motivate her to perform better, as she hopes someone filmed her achievement. Her huge smile tells us how much fun she has, as this slut starts riding the man. She knows that he will like a reverse cowgirl position as he can see every inch of his cock going deep in her tight hole. She is so tight which only gives him more pleasure. Of course, she came again, but until there is even a bit of energy in her body, she won't stop. He drives his big dick deep into her body with powerful thrusts, his hands pull her hips tightly to his to maximise his penetration. She wants to moan but she knows she can't. She wants to scream with pleasure, telling how much she likes feeling his balls slapping against her clit. He can't take it anymore as his huge load runs all over her perfect body, as the best proof this was the ideal fucking session. Smile on her face while the semen covers her soft skin sends the message that she is proud of what she is. Now, what's the next location for her to have her pussy drilled?