Some chicks can be real freaks when it comes to sex, and this one is no exception. This girl is such a freak that she loves having cum inside every single one of her holes. She even has a butt plug in the shape of a heart that will keep the cum from coming out of her anus. She'll keep it in when she's getting fucked in her pussy as well. First things first though, she has to give one of the best blowjobs of her life if she wants to get this cock hard enough so that it could squirt cum in her ass. After stripping naked out of all of her clothes she decided to show us her amazing body before starting to suck the cock of her partner. The young naked girl lied down on her stomach and started sucking him off like a slut. She loved it and moaned so much as she was sucking on it and licking it. You could tell that she liked the taste cause she just wouldn't stop herself at any point in time. She just kept on going and going until the dude was so rock hard that she couldn't help but want that cock inside her pussy. The dude started fucking her like a beast and she could feel the monstrous fucking as he was pounding against her ass from behind. His hard cock was going in and out of her wet pussy every single time that he thrust inside her. She really didn't know how much more of that she could take before switching positions, but before she could finish that thought the dude filled her up with some hot cum. It felt so good to have a cock filling up her vagina with hot sperm. She can feel the cock swell and explode, depositing it's load of hot jism deep inside of her. "I've never seen you cum that much," she said. The young teen girl got creampied so deep inside her pussy that it took a couple of seconds before the cum started dripping out. His cock was now coated with such a thick amount of cum. He then fucked her in several more positions when it comes to her tight pussy and she got cum inside her at the end of every single one of those positions. That wasn't enough for them though and they decided to go for anal as well. She took out her butt plug and he started going to town on that anus.

MY PUSSY IS TOO SMALL FOR THIS AMOUNT OF CUM: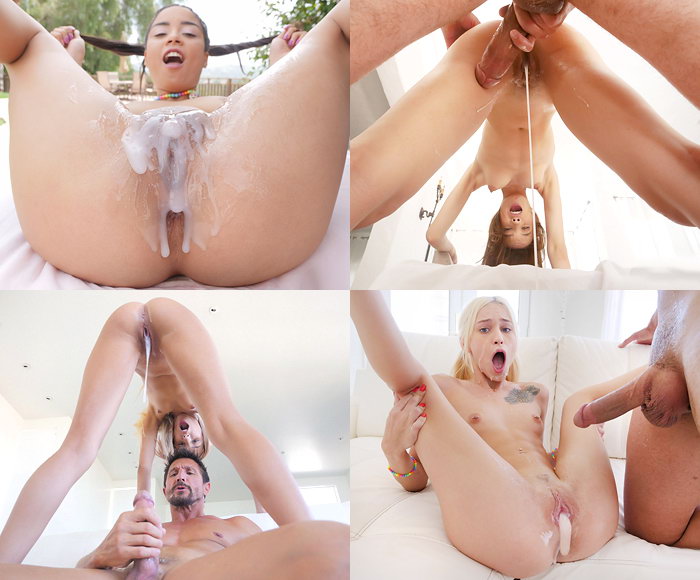 He used the head of his cock to moisten her smaller entrance of her ass, using the cum leaking out of her vagina. He spread it really far apart and her gaping hole got filled with cum time and time again. "Mmmmmm…fuck yes…yesssssss…fuck my cum…cum in my ass…that's it." she moaned, "That's so good!" That felt so good, slamming hard, pushing it deep, she was fucking herself on his dick. The naked girl was panting and squirming from the pleasure. He could feel her own orgasm pulsing up through her body, her anus pulsed tighter and he could feel her spasms. He held her tight and hammered into her petite body, pushing deep, alternating holes, cumming in her ass, then in her cunt, and in her ass again. "CUM IN MEEEE!" the young naked girl screamed as she felt her boyfriend shooting an amazing amount of cum into her pussy again. He humped into her, driving his hot throbbing dick deep and pumping a load into her belly. This triggered her own climax and the girl started bucking, trembling and shaking. Cum could not be contained inside her anymore and squirted out of her cunt. Her pussy convulsed and cum couldn't stop leaking out of her slit. Just as she thought that there was no cum left to take, he came inside her again and she loved the feeling of it.