A lot of people have probably had similar fantasies before. You know, your stepsis is a bit too horny and a bit too careless and decides to do something that will probably leave emotional scars in the future. Maybe it won't, who knows. I mean honestly, it's not an actual sister, she could just be a regular girl LARP-ing as my sister, and it wouldn't make a difference. That's basically it. However, it's still hot as fuck in the end since us humans get off to these kinds of things, so why should we deny ourselves? Sex like this is harmless, so we should really give into it and make sure we are enjoying ourselves for the short time that we have in here. The day starts off regularly, I was in my room, beating my meat as usual, and I was enjoying every second of it, but something was missing. Good thing I bought my fleshlight, though. I used it to squeeze my cock and I kept getting hornier and hornier. I forgot about the surroundings and I was put into a trance of some sort. And in the worst moment possible, my step-sister decides to barge into my room for literally no reason at all, and there it was. She saw my cock entering that silicone vagina. My God, that shit was awkward. Though, my slutty sis was curious enough to actually sit down next to me and listen to my explanation. She wasn't quite familiar with fleshlights and didn't really understand why a man like me (and she considered me to be quite hot) would need one. So, one thing led to another, and she wanted to try it out. So she put my dick into the masturbator, started stroking my cock with it and kept that shit up until she wanted to get her bare hand on it. The sensation of her soft hands on my rod felt incredible. She kept stroking it, I felt her speed up her strokes increase until it was time to put the cock inside her mouth and she started sucking on it like a real slut would. Fast, sloppy, with lots of spit. This went on for a couple of minutes until it was time for my slutty sister to get on top of me so she could ride on my long and thick cock. And so she did. She stipped off her underwear, her lace black panties and bra. She got on quickly and I penetrated her with ease, and then she started bouncing up and down on my cock. She got faster and faster, twerking her cute ass, sliding up and down my pole. She kept twerking her ass onto my dick as I slammed up into her pussy.

HOT YOUNG SISTERS IN SNEAKY AMATEUR SEX SCENES YOU WON'T SEE ELSEWHERE: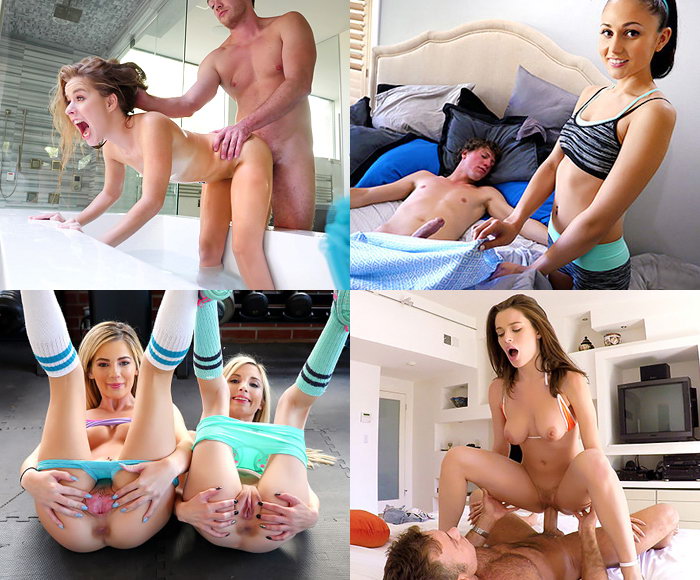 The little slut arched her back and worked her muscular ass. It was fantastic, she was grinding her cunt onto my rigid cock. I felt the soft, wet slippery-smooth pussy wrapping, surrounding, caressing my cock. She kept doing this until her pussy muscles started squeezing my cock really hard. The sexy naked girl did a little twist while my cock was still inside her pussy and decided to ride me with her back facing me. She kept doing all these incredible things with her ass, twerking, moving her ass up and down, from side to side and in slow figure eight swirls!!! She made me so horny, I wanted to pound her cunt as hard as I just could! I pushed her onto the bed and rammed my huge cock deep into her hot cunt from behind! I couldn't stop hammering her cunt with my cock. Slamming, repeating, driving deep was all I could focus on. My horny step sister kept moving her cunt muscles, trying to milk the cum from my hard fucking prick.