This fellow sure has one of the hottest milf step-mom the world had ever seen! It's enough for this cougar to be in the same room to give him the biggest hard-on, and he's always dreaming about doing something about it. Just as he was staring at him one day, the MILF told him to come closer and started kissing him passionately! The boy panicked with his father outside but still couldn't give her a pass! The sexy woman lowered her hand down to his pants and saw that he was hard as a rock. The MILF was wearing the sexiest black stockings and a blue dress that was about to go off! He just couldn't take it any longer and had to go down on her! Leaving her bra on she pulled out her tits and left the boy kissing and sucking on her nipples. The boy couldn't stop sucking her boobs, licking them, kissing, biting them, squeezing her buttocks with both hands at the same time. He got to his knees, turned her around, pulled her panties down and started licking her beautiful wet pussy to which she responded with getting extremely horny! He spread her ass cheeks and started licking her ass crack from behind and fingering her cunt. Both of them stopped even caring if his father would catch them and they gave themselves away to the amazing feeling of the highest sexual exuberance! The horny mom wanted his har young cock so bad that she took over the control. They both went over by the couch and she started sucking his prick with all the experience she had! The things she did with that cock he could never forget. The MILF gagged on it, licked it and swallowed it as deep as she could. That made the boy so horny that he figured that it's about the time to give it to this slutty bitch! After fucking her big tits for a while, she bent over on the couch and waited for his penis to penetrate her had. He started kissing her while his prick was slowly entering her cunt. He started picking the speed up and was fucking her harder and harder with each passing minute! Her big round butt uplifted him so much that he started giving his best to pound her as hard as possible. He then twisted the hot naked woman around, spread her sexy legs and began fucking her aroused pussy while she was playing with her huge round tits.

EXPERIENCE YOUR SEXUAL FANTASIES WITH THE SEXIEST WOMEN AND MILFS: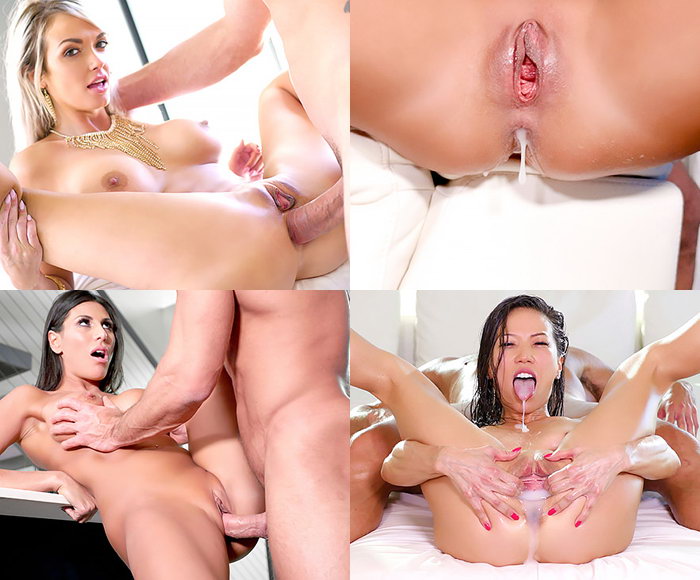 The busty woman was in a pure state of ecstasy as his cock plowed her with much strength! It was time for her to show him a couple of moves, so she got on top of him and started jumping on his cock with her big round tits facing him. He was now doing his best not to cum, and the MILF knew that she was stimulating him out of his mind! He rubbed her pussy with both of his hands and the bitch was producing the sexiest moaning sounds that a woman could ever produce! That's when the naked mom turned around and started riding him with her huge butt facing him. She turned around once again to finish him off while he stares at those amazing tits. After just a couple of moments, he filled her pussy with his sweet juice!