Walking towards me was the hottest blonde I've ever seen. She greeted me cheerfully all excited for the photo shoot we were supposed to have. I had trouble just looking at her wearing that tight skimpy purple dress and I had an urge from the start to savagely fuck her. My camera was flashing all over her, just taking in her sexy form and her poses were so innocent yet I could tell there was something kinky about her. The blonde babe decided that her purple dress has had its spotlight and wanted to change into something else. I was curious to see what she looked like so I followed her to the room where she was changing. I stood right outside the door although she couldn't see me and I felt naughty spying on her, but as soon as I saw her drop her clothes on the floor, my jaw dropped along with them. The blonde hottie was standing there in all her naked glory, insanely hot although I could only see her from behind. Her nice perky ass was bent over as she was pulling up her skirt and I saw a flash of beautiful pink pussy. Apparently, she doesn't wear underwear which was fine by me. I went back outside cause I didn't want her to catch me spying on her, hiding my raging boner along the way. We continued our shoot and she looked gorgeous in just a plain white T-shirt which accentuated her big tits. As the shooting went on she seemed more and more relaxed so I decided to test her limits. When the model was slightly bent over the table I told her to lift up her skirt a bit. To my surprise, she did it, even more than I expected. Her perfect ass came into view and my camera just kept flashing even more now. From then on I knew I had to see her entire body. I suggested she lift up her shirt and she jokingly said how this is going to turn into a fully nude shoot. Little did the sexy model know what I had planned for her. Her gorgeous big tits came into view and I just had to touch them. I could see it in her eyes that she was teasing me and that the hot babe wanted my cock buried inside her. My hands automatically went up to her boobs and her big breasts were so soft and perky with perfect pink nipples. I took her by the pool and convinced her we should maybe do something other than shoot. The little slut just went down on her knees and grabbed my raging cock. She put it in her mouth and the sensation was phenomenal. Like a pro, she spat on it and gave me a nice sloppy blowjob. Seeing her head bob up and down on my cock made me go crazy, but I didn't want to cum before getting to feel that pussy. The naked girl took a few selfies with my dick and got over me and slowly lowered herself on my huge dick. Our eyes lock, I spread her tiny pussy and she was loving it so much, her hips just went faster and faster. You would cum just looking into her sexy eyes! Her moaning turned me on and even more to see her going crazy for my dick. I grab her ass with one hand and massage her tits with the other, as she continues to ride my cock.

THE HOTTEST GIRLS CAUGHT FUCKING IN CHEATING, SNEAKY SEX SCENES: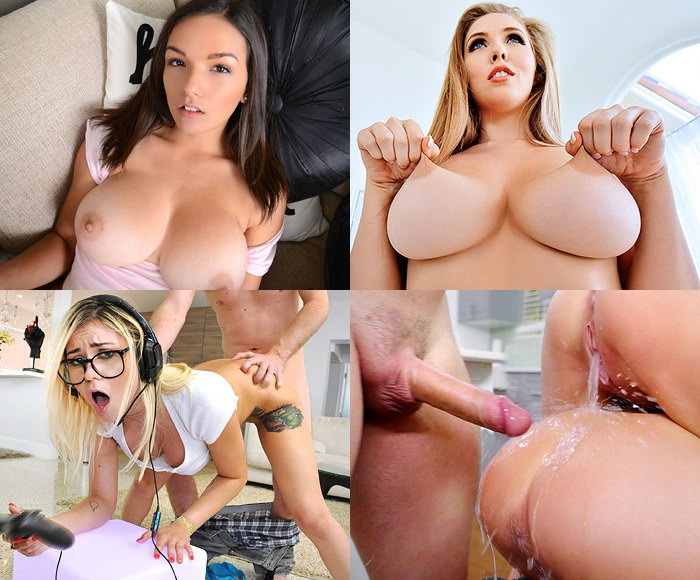 Her breasts smacked me in the face. The hot naked girl forced her tit into my waiting mouth. I hungrily sucked her breasts, she moaned in delight! Then the babe switched to reverse cowgirl and I couldn't resist pounding that hot piece of ass as hard as I could until she was screaming. I couldn't forget her tits so I made her give me a nice tit job. We moved the scene to the bedroom. "I want you fuck me from behind! Smack that juicy ass!" the naked blonde playfully twerked on my dick until I decided to drill that pussy hardcore. She grabbed the back of my head as she rode my dick like a jockey in the Kentucky Derby. That blonde bimbo can ride a dick like nobody else could do it. She thanked me by giving me another sloppy blowjob, sucking my dick and my balls too. I slammed so hard and came so fiercely into her cunt that she lost her balance and fell forward. I could see cum leaking out from between her pussy lips. Her body shook and jerked in a series of orgasmic convulsions. The slut dipped her fingers in the puddle of cum and rubbed it licked it off.