I always knew the walls of our house were thin and to be honest I sometimes wondered if my teenage stepdaughter could hear us fucking. Well, I got my answer soon enough. One day I just find her naked ass in my shower. She starts complaining how she can't take it anymore listening to us without getting some dick herself. I watched the young naked girl wiping her body with a towel, she was so beautiful, young, what a perfect little pussy, nice titties and cute ass. I could feel my cock getting harder and harder in my pants and I couldn't believe I was actually thinking about obliging her request. Soon enough, I found her on the floor looking up at me with those big innocent eyes craving for daddy's cock for the first time in her entire life. The teen slut grabbed my already throbbing dick, pulling it out of my pants and putting it in her tiny mouth as fast as she could. Her sweet innocent face was now bobbing up and down along my thick shaft and her eyes just do it for me. She started off slow with her saliva running down my cock and then she gradually sped up as time went by. I can't hold it anymore and I just spill my load inside her mouth. She, like the slut she is, starts rubbing my sperm down her small tits, looking up at me like she wants more. I couldn't believe what I just did with my stepdaughter. All I knew is that after that blowjob I could never look at her the same. As days went on I noticed the hot teen started wearing incredibly skimpy clothes just to tease me. I could see it in her eyes she was begging me with her body to fuck her like a bitch in heat. In the end, I cave in and bring her into the bedroom. She starts taking off her clothes and I enjoy the process of her revealing her beautiful and sexy teen body. I was enjoying the view watching her rub her young pussy above me and listening to her moans. After a while, she was so wet and ready for my cock that she slowly slides on it. I can feel my thick dick spread her tiny teen pussy. I can see it in her eyes that she was loving my big juicy cock inside her as she was moving her entire body up and down enjoying every single stroke. Her pussy felt so tight and wet I had to stop myself from cumming immediately. To spice things up she gave me a footjob. Her feet were stroking my wet dick and it felt amazing. Then we switched it up to reverse cowgirl where I had a glorious view of her perfect perky ass.

YOUNG GIRLS SACRIFICING THEIR VIRGIN PUSSIES FOR A SWEET TASTE OF PAPAS PECKER: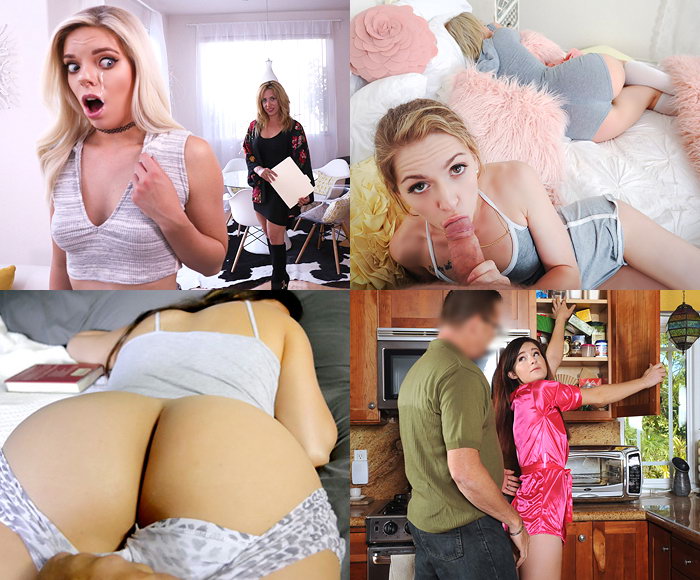 Watching my dick go slowly in and out of her tiny pussy is heaven. I spank her sexy ass a couple of times to show her that she's my slut. At first, my beautiful naked daughter was riding me slowly, enjoying every single stroke fully but as we kept on going I saw that she could not contain herself. Her hips were moving faster and faster until she was riding me like a jackhammer. I still couldn't believe that I was watching my innocent stepdaughters ass go up and down around my throbbing dick but honestly at this point I just saw her as my little slut. I then pull her up into doggy so I would get my turn to drill into her pussy with all my might. The girl was screaming so loudly, in order to shut her up, I blew my giant load into her tiny little slut mouth.