Ava invites teen neighbor Kimmy to celebrate her anniversary with her husband! Don't miss this amazing threesome with two the hottest girls ever. This looks like it is going to be a winner for sure. This smoking hot busty cougar wife Ava is enjoying her anniversary fuck with her husband. She massages her big tits while he spreads her legs wide open, pulling her panties aside and eating at her dripping wet muff. Don't think there's a single woman or man alive that wouldn't do anything and everything deviously imaginable to dive between her wet warm soft creamy pussy lips, yum yum!!! Anniversary sex is always the very best sex they have as a couple. The woman wants her anniversary to be perfect, but her teenage neighbor Kimmy is ruining it with a loud birthday party next door. They don't want to miss out on anniversary sex, so they go next door to see if the teen girl and her friends can keep it down. So there she is, trying to talk some sense into Kimmy, a hot blonde teen, who is being a spoiled brat, so Ava decides to bring out the big guns. That's right, she unfastens her robe and lets the girl have a good look at her big tits. What a couple of boobs! This woman has maybe the besy tits and nipples on the planet!!! Ava's body is out of control! She's a deliciously curvy fertility goddess. Unfortunately, as much as Kimmy is into her big tits, she's still being a brat and Ava gives up. However, her husband decides to see if he can knock some sense into her. He storms in, sees all the hot and sexy girls pillow fighting to the loud music, turns it off and demands them to stop. The only thing stopping the girls from actually taking him seriously is the fact that while he's shouting his demands, he has a huge boner! The slutty neighbor sits him on the couch and while the rest of the girls watch and cheer her on, she starts sucking and stroking Ava's husband's throbbing erection. Everybody else leaves the party, so his wife walks back in, looking for her husband and she finds him alright, getting a blowjob from the teen slut! She decides it's time to teach this little bitch a lesson, grabbing her head and pushed it down against her husband's crotch, making her choke and gag on his massive cock as it gets rammed down her throat. They strip this hot teen naked and straddle her on top of his cock. He grinds her groin into his own, enjoying the feeling of his cock buried so deep in her pussy. The hot pussy juice against his cock after each thrust in to her hot pussy drives this couple wild. Her sexy little skinny body bouncing up and down as she rides it. This hot teen girl rides his cock like a champ, doing incredible things with her ass, twerking it up and down, moaning and throwing her ass around, grinding herself harder against him, cumming nonstop!!! Her tiny pussy is so hot now, her juice is dripping from the swollen, puffy lips as she slams her little cunt to his huge cock. Ava rubs Kimmy's muff while seeing how hot her husband looks fucking this bitch. She plays with his balls, then grabs his hard cock and sucks it, tasting the young pussy on it and it's delicious.

HORNY MOMS AND SEXY TEENS CAUGHT FUCKING IN SNEAKY, RISKY AND CHEATING SCENES: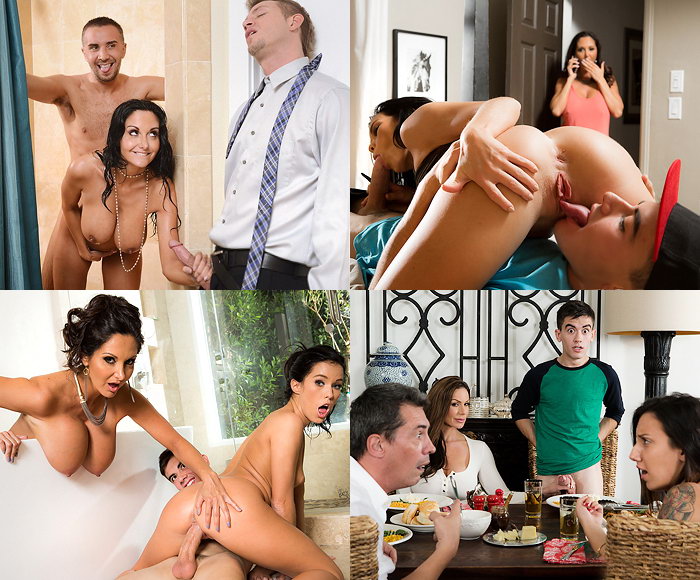 Kimmy spreads her legs wide open and Ava gets down on her hands and knees, eating her out while her husband penetrates and fucks her doggy style from behind. They put the young naked girl on her back and spread eagle her as her husband fucks her tight cunt in missionary position and Ava sits by her side, fondling her big tits as she masturbates herself. She plays with Kimmy's pussy while her husband fucks her hard and she gets fucked by him too. GAWD she's stunningly beautiful. He pulls out of her pussy just in time to cum all over her big tits and Kimmy licks his cum off them! Their anniversary fuck has turned into a hot threesome with their slutty neighbor! It's a double celebration! These two naked girls use his cock to give themselves the best orgasm possible. Looks simply amazing! Hands down, the best girls and one of the best threesomes I've ever seen.