I was driving around the neighborhood when I spotted this beautiful blonde with a delicious bubble butt in a pair of tight ripped denim shorts getting out of her boyfriend's car while arguing with him. The motherfucker put the pedal to the metal and sped away, leaving this poor girl stranded. Good thing I was there to help her out! She wanted to get out as soon as possible, because her boyfriend was a crazy asshole, and he actually pulled over by our side, and this sexy blonde just pulled down her shorts, pushed her big juicy ass out the passenger window and mooned him! Man, I was already in love! Her naked ass was totally exposed. That girl had the perfect ass, oh my, it was bubble and firm. The guy left and instead of sliding her shorts and panties back on, she actually took them off! This crazy bitch was hot and ready for the rebound fuck! As I drove, she grabbed my big hard cock in her hands, sucking and stroking it. The sensation of her sweet lips sucking the aroused cock head and licking my balls was amazing. She wasn't wasting any time, man! I didn't even know her name and she was already blowing my dick! I'm telling you I love this chick! While she was giving me head, she was done on her hands and knees, her top pulled over her big beautiful tits and her delicious bubble butt jutting out. What a view! I had a hard time keeping my eyes on the road, man! I needed to get home fast and fuck this bitch! I knew she needed to be fucked by a stranger. I got home and pulled over my driveway and she didn't even wait to get out of the car, she just hopped on my lap. My heart started pounding, I couldn't believe. This hot teen about to get FUCKED by a total STRANGER. The teen slut rubbed my erection across the entrance of her wet cunt before she finally got the courage to lower her little pussy onto my monster. When my thick head finally did penetrate her pussy, the tiny girl felt like she was stuffed from head to toe, it was so big. My cock had completely filled her stretched pussy. Her boyfriend had a small penis and she had always wondered what a big cock would feel like. She started riding me in reverse cowgirl, making that hot bubble ass bounce, baby! My dick filled and refilled her over and over again. We moved to the back seat, where at least we'd have more space and I lied on my back as she got back on top, riding me in cowgirl position. She got on her back and spread her legs wide open, rubbing her pink clam while I fucked her in missionary position. Her tits look absolutely amazing. Her tits were soft yet firm and perky, two milky white breasts with big pink nipples. She took her big tits in her hands and pushed them together while I continued banging her in the backseat, hoping my neighbors weren't watching, and if they were, fuck it, they are used to this shit anyway, LOL!

HOT CRAZY TEENS GET THEIR SMALL PUSSIES DESTROYED BY THE BIGGEST COCKS EVER: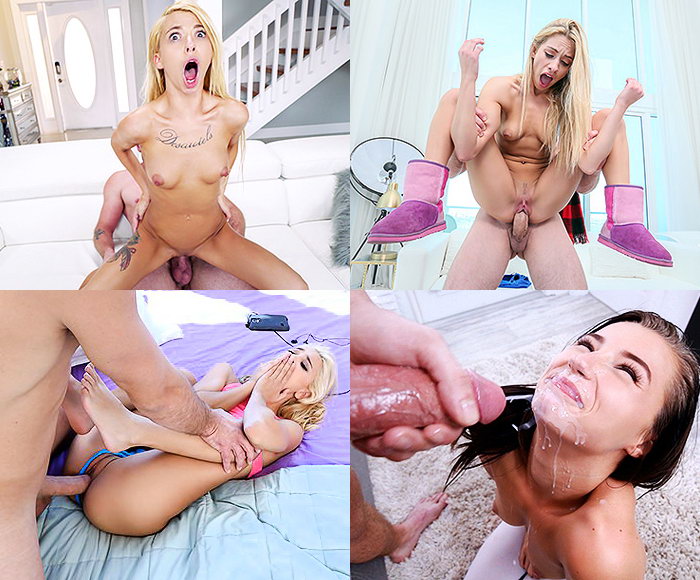 We got out of the car and this crazy bitch got down on her knees, sucking and stroking my big fat cock on the driveway while snapping pictures and sending them to her loser ex-boyfriend, so he could see what he was missing out on! She even called him so he could her us fucking! Wild! I bent her over the back of the car and pulled her leg up so I could fuck that tight pussy of hers while her boyfriend heard her screams and moans. I kept destroying her little pussy with my hard cock. All my power went into slamming my cock deep into her sopping wet pussy. "Say it. Say to her boyfriend how much you like my cock!" She couldn't take it anymore as she came over and over my cock. She was screaming and crying "I fucking love your cock! I fucking love your cock! Fuck me…" Orgasmic waves were flushing through her naked body. It was like a tsunami exploding from her fingers and toes, in towards her sweet love spot. I blew my creamy load, spraying lots of hot cum all over her cute face, her open mouth and those two big beautiful tits! Fucking hot!