It's our anniversary, and I wanted to surprise my girlfriend with a sexy present. As I understood, her roommate and best friend wasn't going to be at her apartment, so I sneaked in with my spare keys and hid behind the folding screen. Soon I heard the door open, and convinced it was my girlfriend, I made a hole in the screen to fit my throbbing member through, making an improvised glory hole. What I didn't know was that the person that came in was my girlfriend's bestie, and boy, was she thrilled with the new addition to their apartment! She gave my cock one swift lick, with lots of saliva dripping down her chin as she swallowed my cock whole! The mouth behind the folding screen began to suck and lick my dick, swallowing my per cum greedily, licking my balls… I couldn't believe my girlfriend was so hot and horny. That's when I heard the door opening… again!?! My girlfriend's voice followed: "Melissa, what are you doing in my dressing room!?!" Fuck! That's when I realized I was getting a blowjob from the wrong roommate! There was my girlfriend, in a sexy red lingerie outfit, on top of her roommate, accusing her of sucking my cock! I separated them and explained the misunderstanding, hoping they would believe me, because after all, it was the truth. The girls did, and they decided to put aside the awkward situation by sharing my hard cock in a steamy threesome fuck! I couldn't believe my luck, my girlfriend's roommate is a smoking hot brunette slut with an incredible body and she had already proven her amazing cock sucking skills! The girls got on their knees, competing to see which one was better at sucking my dick! Two mouths on the balls! They made love to my hot throbbing cock with their mouths. Damn they fine as hell. Both, definitely know what they were doing. The girls both strip naked while stroking and sucking my throbbing erection, drooling all over my cock and my balls, kissing each other and swapping their spit on my precum back and forth while giving me a double blowjob that blew my mind and almost made me blow my load on the spot! The brunette let her drool drip down her tits, rubbing it all over them with her hands while joining my girlfriend in licking and sucking my balls and sucking on my girl's puffy nipples! After giving me head, it was time to fuck. My sexy girlfriend let her go first and her naked roommate straddled herself atop my hard cock. We moaned in unison at the feeling of my dick buried deep in her twat. She began grinding on me, moving back and forth, taking my cock inside her hot pussy. The gf's roommate was fucking me, bringing herself to climax. She rode me while my girl played with her tits, kissing them softly and sucking on her erect nipples. She convulsed and had an orgasm on my cock as I held it deep in her pussy, after she was done cumming, I pulled my cock out of her pussy.

THE SEXIEST NAKED GIRLS CAUGHT FUCKING IN AMATEUR, POV, RISKY, SNEAKY, OUTDOOR SEX SCENES: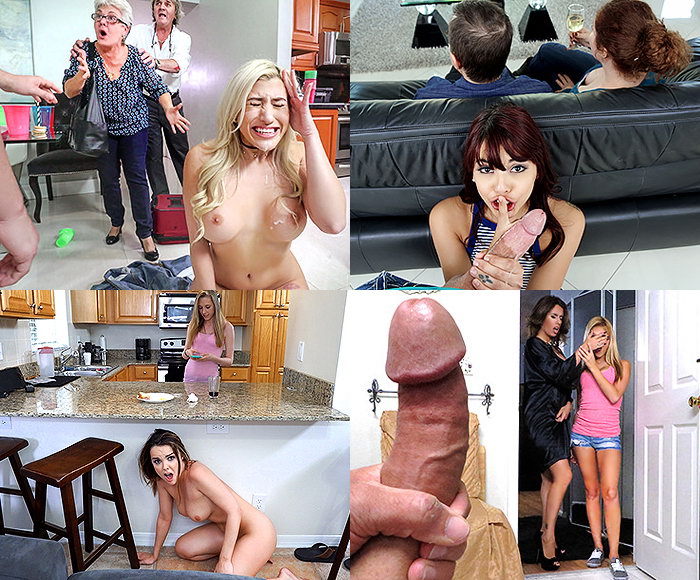 My girlfriend rubbed her muff while she was on top of me and kissed her roommate's lips, taking her place so she could get fucked hard by my cock, which was now well coated in pussy juice. My girlfriend started to cum too and I pounded into her pussy as hard and fast as I could to keep her orgasm going. I was again soaked in pussy cum and pulled my cock out of her. I fucked her sideways and then went back to fucking her best friend, spread legged in missionary, resting against my girlfriend, who played with her and made out while I continued switching back and forth between lovers. Her roommate pulled my girlfriend up to her face and had her sit on her face so she could eat her pussy. She gave her dripping pussy a nice big kiss, just like as if she was kissing her mouth. For nearly two hours we had sex. Alternating pussies till I blew my creamy cum all over their faces and watching them swap it back and forth, kissing and fondling each other! I walked out of the room to shower, leaving the naked girls covered in cum and pussy juice. My surprise didn't turn out so bad after all!