My stepsister is a sexy brunette girl and she has a hot blonde girlfriend and I always wonder what they are doing when they lock themselves up in her bedroom so I decided to beat them to the punch. Hidden behind the door, I could see the girls in bed, taking off their clothes while sucking on the nipples, fondling their tits. I stood there, shocked that my sister was a lesbian. I was spying on the girls licking each other's titties and touching each other's pussy. It was so hot, I couldn't help grabbing my cock and jerking it, masturbating my thumb while I watched them putting on a hot lesbian sex show, not knowing that I was a spectator. I guess I got what I deserved when I stumbled and fell face first to the floor right in front of them, with my cock in my hands. Awkward! Of course the girls were pissed off and they threw me out of the room! A couple of hours later I was sitting in the living room when my stepsister came. I apologized from the heart, I knew I had done something wrong, invading her privacy and betraying her trust. To my surprise, she wasn't so upset. Matter of fact, she confessed that after watching me masturbating and seeing how big and hard my cock was, she couldn't get it out of her mind. My stepsister may have a girlfriend, but that doesn't mean she doesn't like cock, and she wanted to get a better look of mine. She unzipped me, took my throbbing member between her soft hands and began giving me a handjob and blowjob combo, I couldn't believe it was actually happening! Unfortunately, her girlfriend stepped into the living room and that's a moment and caught her girlfriend giving her stepbrother head! She was visibly upset, but my stepsister told her to come closer, inviting her to suck my cock with her! I was more than happy to display my rock hard cock to the girls. Without hesitation, she opened her mouth and let the head sink past her lips. Her lips closed around the head and she began sucking and running her tongue all over it, swallowing my cock all the way down. "Just look at my girlfriend take your cock! I think she likes it, don't you?" My step sister pulled my cock out of her lesbian girlfriend's mouth and began to suck it too, when her lover was busy with my balls. The ex-lesbian softly sucked at my sack and then slowly enveloped one ball, then the other, and then both with her angelic mouth. There they were, my stepsister and her hot girlfriend, down on their knees, sucking and stroking my fat cock and licking my balls together. I blew my load in my stepsister's mouth and watched her snowball it back and forth with her girlfriend. Later that night, the girls called me to their bedroom, letting me know they wanted to keep enjoying my hard cock! Matter of fact, her girlfriend wanted to see me fucking my very own stepsister! Not that's a dirty fantasy! My stepsister got down on all fours, her girlfriend spread her ass cheeks and I rammed my hard cock deep inside her tight muff, fucking her doggie style from behind and her girlfriend assume the same position by her side so I could take turns fucking them both. The both girls were begging me to fuck their cunts hard and deep. While two naked girls had hot lesbian sex between them, I flipped my stepsister's girlfriend on her back, spread her legs wide open and pounded her hard in missionary position.

YOUNG AND HORNY TEEN SISTERS CAUGHT FUCKING IN THE BEST AMATEUR PORN: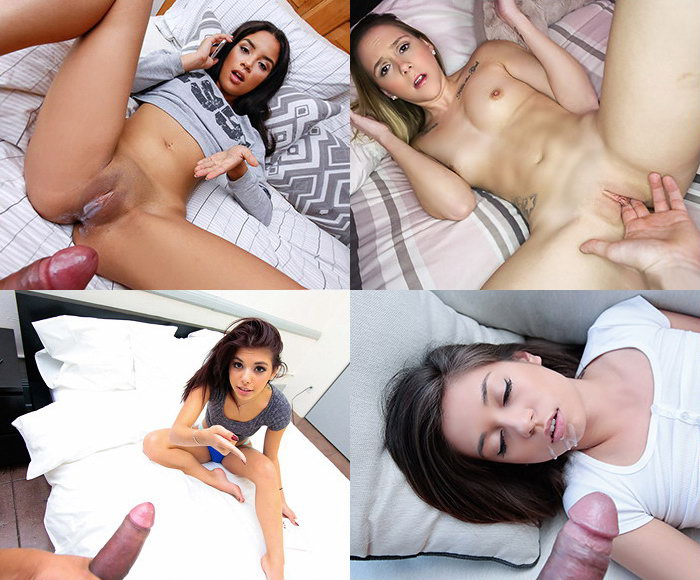 Her lesbian pussy was so hot and wet. She was going crazy with a real cock deep in her cunt. I could tell from her moaning and the clenching of her pussy around my fingers that she was getting closer and closer to cumming. Then the naked girls rode my cock. My stepsister's girlfriend was thrusting down on my cock with such energy. We were both so worked up. I watched as she pounded my cock over and over. I grabbed her ass and pounded her against my cock as she came again which only forced her to ride me harder. "Cum in my girlfriend, fill her up with your hot sperm! Oh, fuuuck!" As I moaned and started to cum, my stepsister shoved her cunt into her girlfriend's face and began to cum too, squirting her pussy juice in her mouth! I pulled my cock out and my stepsister began to eat the cum out of her hole!!! Now my stepsister and her girlfriend have an open relationship… with me!