My sexy girlfriend got pretty pissed off when I decided to spend Valentine's Day playing video games with my best friend. Hey, isn't this holiday supposed to be about friendship too? I kept brushing her off, until she got so mad she took the controllers and headsets from our hands and bitch about me not paying attention to her and her needs, telling me she wanted something special for Valentine's. Well, since she wanted something special, I had something perfect in mind! I grabbed her and put her down on her knees while my friend and I pulled down our shorts and whipped out our big juicy cocks for her to suck and stroke. Judging by the naughty smile on her face, a couple of dicks was exactly what she needed. My naughty girlfriend grabbed them with both hands and began to kiss and lick our cockheads. She opened her mouth, stuck her tongue all the way out and shoved my cock in her throat. After deepthroating my cock she swallowed the other one. My Valentine gift to her this year is fabulous! My girlfriend took turns gobbling up our sausages and getting them all hard and lubed up with her drool. We all stripped naked and I made her bend over a chair so we could spit roast her. "Oh, fuck me, I want two cocks in me! I want two huge cocks deep in my cunt" she screamed. As she kept feeding on my hard cock, my buddy spread her juicy ass cheeks apart and rammed his hard cock deep inside her dripping wet twat. She had never had two dicks inside her at the same time and she was totally enthralled by the experience and could hardly keep up, moaning and grunting and begging us to fuck her brains out. "I want to feel both of you cum! I want two cocks to explode in me at the same time!" She was thrashing around while both her pussy and mouth clenched our cocks. She looked really fucking hot and my friend and I both had to admit that banging my girlfriend together was so much more fun than playing video games! I turned the chair so I could fuck her pussy while she sucked my friend's hard cock, tasting her snatch on it as she did so. Valentine's Day is all about love and friendship and we had found the perfect way to combine them both! We flipped my girl over, spreading her legs in missionary position, watching her rubbing her muff while we kept pounding her young tight pussy and mouth with our meat poles. She even confessed that she had actually fantasized about two guys double penetrating her many, many times while she masturbated herself in the shower. Fuck, I could have used this information several Valentine days ago, LOL! I lied flat on my back and she lower herself onto my cock. She began riding me while she stroked and sucked my buddy's big juicy boner. Her pussy was getting dick non-stop and we weren't giving her any rest, as we kept switching positions and spit roasting her from every single angle we could think of. After fucking for a while we were ready to blow our loads.

YOUNG GIRLS GET THEIR LITTLE PUSSIES DESTROYED BY BIG COCKS: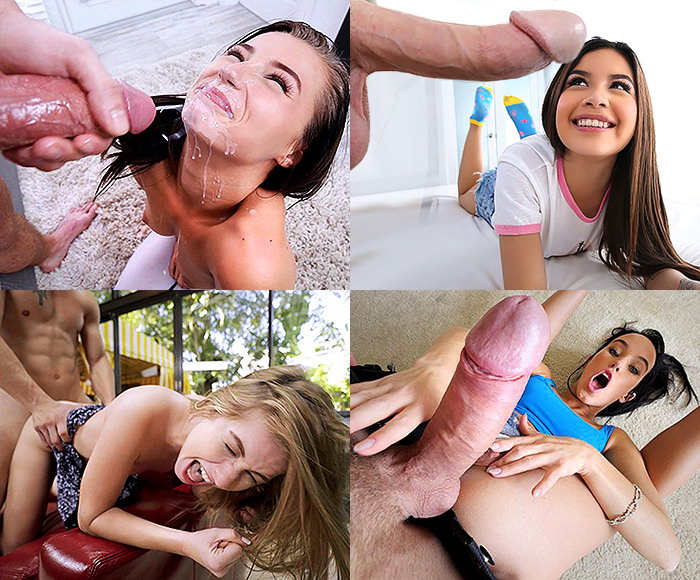 "OH FUCK I'M CUMMING!!!" I felt her pussy tighten on my cock. I saw my friend started to cum right in her face. I watched as he came all over her face and I started ramming her harder with powerful thrusts. I couldn't take it anymore. I plunged back in and when my wet balls slapped against her ass I saw hot cum pouring out of her pussy. She was moaning and screaming, her tongue was catching jets of semen as she groaned with pleasure. I was shooting my load into her sweet, wet cunt at the same time. My friend exploded all over her face, in four or five thick jets of sperm, one after another, one even reaching her hair. My naked girlfriend was lying in a puddle of our white stiky cum. She enjoyed getting her body sprayed with a double dose of hot and creamy cum as she licked our cocks clean with her filthy mouth and tongue. She told us this was the best Valentine's Day gift ever and she wanted to repeat it next year! Why wait so long? LOL!