I told my stepsister many times to stop using my laptop, but once again, she had taken it without asking my permission. I went to her bedroom and sure enough, there she was, lying on her bed with my laptop. I found it kind of suspicious that when she saw me, she closed the cover, as if she didn't want me to see what she was looking at. Just as I suspected, she was watching porn on it. That dirty little slut. I didn't want to be too hard on her, she was pretty embarrassed that I had caught her watching smut, but at the same time, I could see her erect nipples through her blouse so she was definitely excited. That made my dick hard, and judging by her facial expression when she noticed my bulge, what she saw excited her even more! Since she had been using my computer to watch cock, I thought it was only fitting that she took a better look at mine! My step sister unzipped my pants and withdrew my throbbing boner, sucking and stroking it like those dirty little fuck sluts she likes to look at in them videos! Well, at least she was learning from what she was watching, LOL! Dirty little bitch suck my cock until I blew my load in her mouth and she swallowed it all down! I came in her mouth and she swallowed it for the first time in her life, it seemed that she did not understand what happened. Well, we stopped their, but a few hours later as I was passing by her room I saw her playing with some rope. She had probably been watching some bondage porn on my laptop this time. As it turns out, she wanted to try herself to the bed and fantasized about it, so I decided to help her out. That's what stepbrothers are for, right? I stripped her naked, tied her to the bed and spread her legs. I gently parted her wet pink lips with my thumbs and held her open, her pussy was so beautiful. I started fingering her dripping wet cunt. She was wearing a cute little choker around her neck and her black lace bra and looked hot as fuck getting masturbated by me while tied up. That was enough to send my step sister over the edge, she came with my finger deep in her vagina. Her pink pussy begged to be penetrated and the third round happened at night in the living room. She was totally naked and wearing another sexy choker, since I had told her I liked how she looked with them. My naked step sister pushed me back onto the couch and slipped my hard cock into her shuddering pussy and immediately began to ride me. Her clitoris was still hyper-sensitive from the orgasm. The feeling of her young naked body touching me as she slowly fucked me was amazing. The teen slut was going wild this time as she thrust her hips up and down trying to get my dick as deep as she could. Grabbing her sexy ass cheeks, I pulled her pussy even tighter onto my hard meat. Her stretched cunt lips were wrapped tightly around my dick as she rose and fell on my shaft each time. Her titties were bouncing as she moved. The girl kept going, faster and harder. She turned over and kept riding my cock with her juicy ass facing me. The view of her cute ass cheeks and her little anus had almost caused me to blow my load all over her ass.

YOUNG AND HORNY TEEN SISTERS CAUGHT FUCKING IN THE BEST AMATEUR PORN: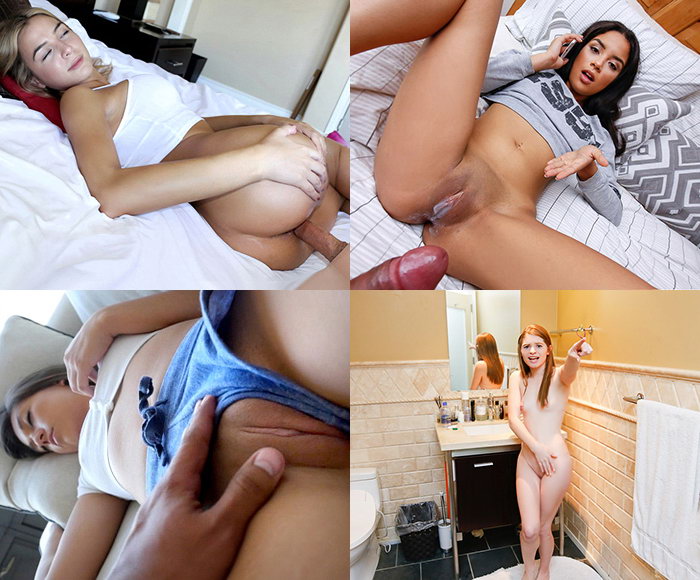 I put her on her back, spread eagled her, groping her tits while fucking her hard in missionary position. I was totally lost in the feeling of her wet pussy. I no longer cared that she was my step sister. She wrapped her legs around my waist making me go deeper inside her, then squeezed my buttocks with both hands and erupted in a powerful orgasm. As my cock began to spurt my spunk in her mouth I knew she was cumming again as she began to moan with her mouth full of cock and cum. I guess I couldn't be mad at her for using my laptop to watch porn anymore. Now, we could watch it together and after getting turned on by it we could just fuck each other! I kind of like the way our step sibling relationship is evolving and I think she likes it too. Watching porn is hot, but being able to do the stuff you watch with your stepsister is hotter!