I know my stepsister takes an awful lot of time in the shower, but today, it just seemed to keep going on forever! I started worrying, maybe she slipped and fell in the shower! I took a peek and imagine my surprise upon seeing my stepsister completely naked and masturbating herself with the shower massager! No wonder those showers got so long! She finally got out and got into her bedroom, but I had a raging hard on from watching her pleasuring herself in there. I couldn't resist taking a peek into her bedroom, and sure enough, there she was again, totally naked and finger fucking her pussy in her bed. Looks like she just can't get enough! Hey, maybe she needed a real cock to satisfy her! I know she doesn't have much experience, even her ex-boyfriend complained to me about this! After all, that's what stepbrothers are for, right? LOL! She was quite embarrassed at first, being caught masturbating and all that but I could tell she was also very curious about experimenting with her very own stepbrother! She tossed her bed covers aside, lying completely naked with her legs spread wide open. I started by massaging her slit with my fingers, she was gushing! She licked and sucked on her finger while I played with her, moaning softly and squirming when I jammed my thumb inside her cunt and began finger fucking her. After making her cum I thought she had enough, so imagine my surprise when she crawled into my bedroom an hour later and onto my bed while I was taking a nap. She dug under my boxers, taking my throbbing member in her hands, sucking and stroking it. She looked so fucking turned on! She whispered into my ear that she wanted me to fuck her so I made her lie flat on her belly and slowly inserted my cock into her pink pussy burger, penetrating and fucking her from behind while on top of her. She lifted her juicy ass, getting on her knees as I stuffed her muff with cock meat. I lied flat on my back and I let her straddle herself on top, pushing my dick inside her so she could ride me. Afterwards, I placed her on her back, spreading her legs wide open and fucking her some more, this time in missionary position. She seemed to enjoy this one quite a lot, judging by the flushed expression on her face, her mouth wide open, baiting for breath as I pounded her harder, faster and deeper with every thrust. She confessed that every time she masturbated in the shower and in her bedroom she fantasized with my big hard cock pounding her hard and making her my personal fuck slut! I was glad to make her filthy fantasies cum true while blowing my creamy load all over her cute face and that sexy naked body!

YOUNG AND HORNY TEEN SISTERS CAUGHT FUCKING IN THE BEST AMATEUR PORN: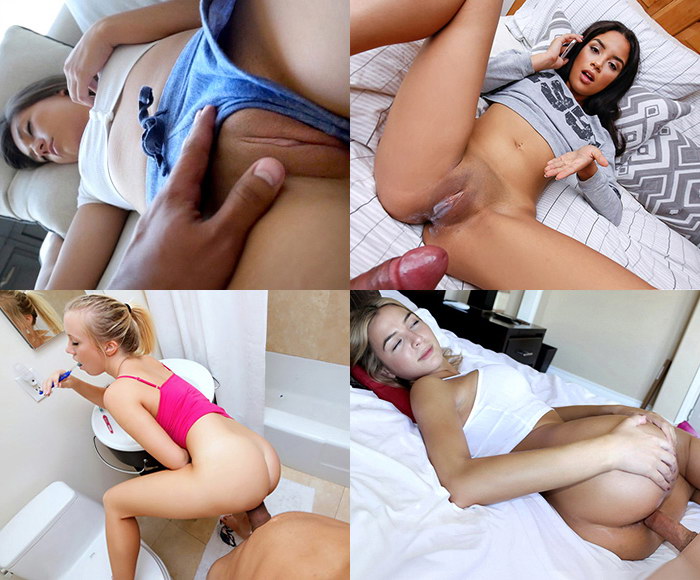 These guys don't need to go very far to get laid, because their sexy and hot step sisters love them so much, they can't resist sucking their big hard cocks before bedtime, watch porn with them and let their step brothers play with their young pussies, eat them out and fuck them while their parents do not see. These girls want to give their innocence to their older step brothers and let them pop the cherry and even cum inside! Don't miss more amazing POV homemade amateur sextapes, sneaking behind the parents and almost getting caught scenes with all these sexy sisters!