After getting busted masturbating to porn in the bathroom, our beautiful blonde teacher made my friend and I stay after classes. She decided to test our discipline, whoever one of us could go the longest without touching ourselves would get to fuck her! Our teacher Mrs. Bradburry is almost impossibly hot platinum blonde, with amazing breast and a hot juicy, cock-hungry booty and I often jerked-off imagining my gorgeous teacher naked and my cock sliding in and out of her shaved cunt. I often wondered what it would be like to see what they're hiding under this short skirt and her tight blouse. I had to pinch myself to make sure this wasn't just another wet dream! She removed her sweater and blouse, leaving her sexy lace bra on as she got close to my friend, pushing his face between her big tits! She took the bra off in front of us and her naked tits were the most beautiful thing I've ever seen. She placed her boobs very close to my face, enticing me to lick and suckle on her puffy nipples! Her big round tits was everything I had fantasized about. I often jerked off dreaming of her tits, and now that I was actually feeling them. My cock was bursting in my pants! My friend couldn't resist and had to jerk off to this, yes, victory was mine! Just like that, my nasty blond teacher got down on her knees, releasing my throbbing erection from underneath my pants, taking it in her soft hands and sucking my cock! She was impressed with how big, hard and thick my penis was! I had never felt such a feeling! She placed my erect dick between her gorgeous tits and started to fuck it with them. After blowjob and titjob, she stripped down to her lace stockings and high heels, sitting on her desk spreading her legs wide open, inviting me to pound her dripping wet cunt with my big juicy cock while my friend watched us. Our teacher Mrs. Bradburry opened her legs and I had a clear view of her pussy. I couldn't help myself; I moved closer. There, in front of me, was what I had been thinking for so long! "Well, I'm going to lie back on the desk like this. Now, you get between my legs so you can shove your cock all the way in my cunt. Okay, right there" I didn't hesitate, grabbed my dick and thrust my it into her hot slick slit. I felt her heat as her vagina got the head of it in. The teacher's pussy was so hot and tight and she played with her big tits, groping and massaging them while she moaned and grunted and begged me to keep fucking her harder and faster. She had a piercing in her clit hood and while we fucked she kissed me and I could feel her slick pink tongue wriggling inside my mouth, massaging my own tongue! She said she wanted to get double penetrated by us, so I placed her sideways and rammed my hard cock deep inside her tight asshole, spreading her juicy bubble butt cheeks apart with my hands as my friend strip naked and slid his cock into her wet mouth. She sucked his cock while I fucked her ass and then we switched positions. Something turned me into a sex machine!

THE HOTTEST WOMEN DOING INCREDIBLE THINGS WITH THE BIGGEST COCKS: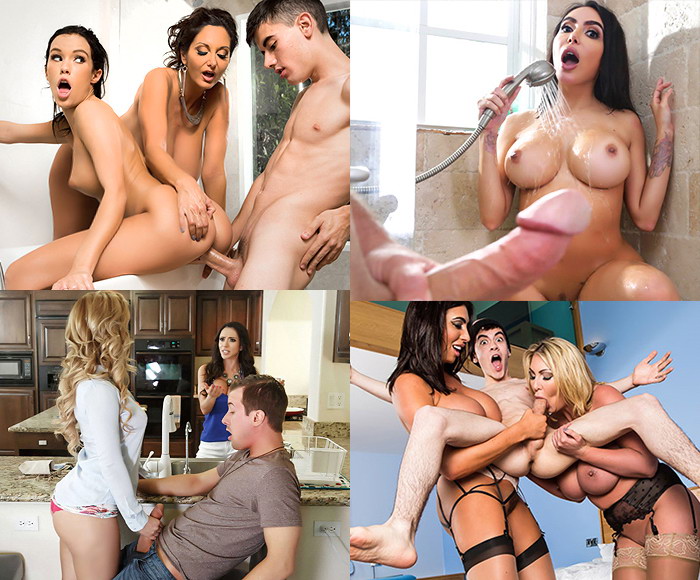 My friend sat on her chair and our naked teacher impaled her ass on his cock, riding him anally in reverse cowgirl while sucking on my hard cock. She ordered my friend to lie flat on his back so she could sit on his lap, and while he fucked her asshole she made me get on top, fucking her pussy. Yes, believe it or not, we were double penetrating the teacher in the classroom! Suddenly she began to yell "Cum in me, You two, Cum in my holes together! Oh shit!" I realized I was cumming in her ass together with my friend cumming in her cunt. We slid our cocks out of her, spunk was leaking out of both her holes! That was incredible! I had never cum so much or so hard, I could hardly believe how much cum there was. The teacher told us she didn't want us masturbating in the bathroom anymore. Anytime we were feeling horny we could stay after classes with her and double penetrate her pussy and ass and give her all our young fresh cum! Now everybody wonders why we always stay late after classes, it's so unusual for teens to love staying in school so much, LOL! If they only knew!