It was Mother's Day and since I was visiting my girlfriend, I decided I'd drop by her beautiful blonde stepmom's bedroom and congratulate her for the occasion. I didn't bring any gifts so I asked her if she would like anything special for the occasion. She told me she would love a back rub, I thought that was innocent enough, but when she pulled down the sheets, I noticed she was wearing the sexiest lingerie, highlighting her smoking hot body and big magnificent tits! She turned over and I saw her gorgeous ass… mouth watering and juicy. I started rubbing her back but she said me that I could rub her down there. She said it would make her feel nice. When my hands touched her big soft ass, I felt tiny shocks flow through my body. I squeezed her juicy buttocks with my hands and the hot woman closed her eyes and starting breathing really hard. I was getting an erection from touching her sexy body and her meaty sexy ass! She noticed it and she suggested we do something about it! Could you do something else for me? Maybe put your dick inside of me!? I couldn't believe I was there in bed with this half naked woman, but before I could really say anything she pulled down her sexy lingerie and got down on her hands and knees and showed me her naked ass. I was now looking straight up onto her ass and pussy. She was so hot, big ass, huge milk tits and that lovely smiling face. I took off my clothes too, came closer, spread her buttocks and kissed her pussy from behind, it was very warm and damp. I penetrated her on the spot, fucking her mature pussy from behind with my throbbing member doggy style! She started moaning and moving her butt back and forth, saying it felt really nice. I was so concentrated banging her, I didn't notice when my girlfriend walked in on us! I guess she appreciated my Mother's Day gift for her stepmom, because when I realized she was there, she had her hands down her shorts and was masturbating herself while watching us fuck! She joined us in bed and she had her own little gift for her stepmom, getting down on all fours and eating her out along with me! I licked her pussy and ass while she ate her stepmom out and as she straddled herself on top of her, I started fucking her doggy style from behind too! I couldn't believe I was doing a threesome with two naked girls, my girlfriend and her sexy stepmom! I switched from my gf's pussy to her stepmom's, fucking the girls both in tandem while they had hot lesbian sex between each other; they looked so hot and beautiful! The naked girls made me lie flat on my back and sucked my cock and licked my balls together and as my girlfriend sat on my hard cock, her stepmom sat on my face and I ate her out and fucked my girl as they kissed and rode me! My girlfriend and her sexy stepmom took turns fucking me. Then the stepmom told me to cum all over their faces. The girls licked my balls together while I was blowing my load all over their sexy faces. At the end I watched them swap my cum, Happy Mother's Day!

HOT NAKED WOMEN AND YOUNG TEEN GIRLS IN THE BEST FAMILY ORGIES YOU HAVE EVER SEEN: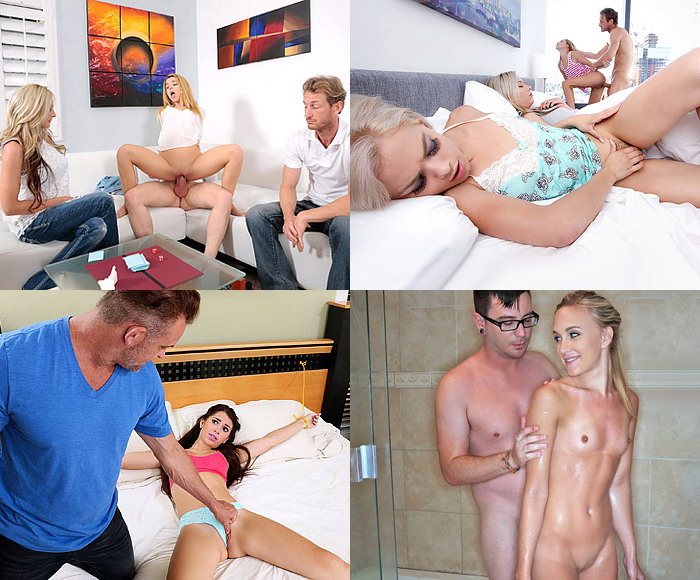 If you fantasize with banging your slutty sister, eating out your stepdaughter's young pussy or having your gf's sexy mom suck your hard cock, here at Family Strokes, all those dirty fantasies cum true right in front of your eyes! Step-family relations take a turn for the kinky as mature stepmoms, horny stepdad, sexy stepsisters and stepbrothers strip naked and get it on! These hot naked women seduce their daughter's boyfriends and make them fuck them hard, these horny guys sneak into their stepsister's room and fuck them when the girls sleep, these pervert stepdad enjoy their young step daughters' pussies. Watch it all in the most crazy, threesome, foursome, sex family orgies!