Busty MILF was always into guys, but once she met her daughter's new friend, she developed feelings for her. This mature brunette became obsessed but was too afraid to try anything. Tonight, this young babe will stay at their house, and as she comes to check them out, she saw her topless. The picture is now engraved in her mind, so when her husband wants to have sex with her, she politely refuses. She needs this young pussy and will probably spend the night thinking about her. As she masturbates, what she doesn't know is that her teen guest is also dreaming about a lesbian affair with her. It's not like she doesn't have a lot of experience, but it's mostly with other students. Short-haired babe is now intrigued to try it with someone twice her age. That's why she makes a move and sneaks into her bedroom for some late night lesbian lovin'. Her left palm on her mouth, her right hand on her cunt. The horny teen girl immediately starts kissing her and fingering her pussy, while her husband is sleeping, only feet away. "Yeaahhhhhh," her friend's mom moans back in a submissive voice. It's hard to describe the amount of excitement that is going on. The girls could be caught any second now, but it's hard to think about it while they are having so much fun. The teen girl is kissing her lips, sucking her tongue, teasing her, making her want her lips on her pussy, her clit. She bites her hand so as not to moan with pleasure. This little slut is licking her slit, up and down, sliding her tongue inside her, rubbing her tickler inside her pussy then dragging it back across her clit. The girls begin kissing, twining their tongues together, their big tits are pressed together and slipping over each other. This is a great sexy lesbian scene with two beautiful big breasted ladies with fine full curvy asses! What they decide to do is to move to another room where they will finally be alone. Now MILF is on the offensive, eating young pussy and enjoying it like she couldn't believe she would. She even goes inside of her asshole, loving the taste of it. As she fingers her young lesbian lover, they are making so much noise that it's a miracle that no one heard them. Now it's time for the younger dyke to prove her worth once more. She is surprised that her friend's mom can give her so much pleasure.

THE HOTTEST LESBIANS CAN'T CONTROL THEIR SEX DRIVE: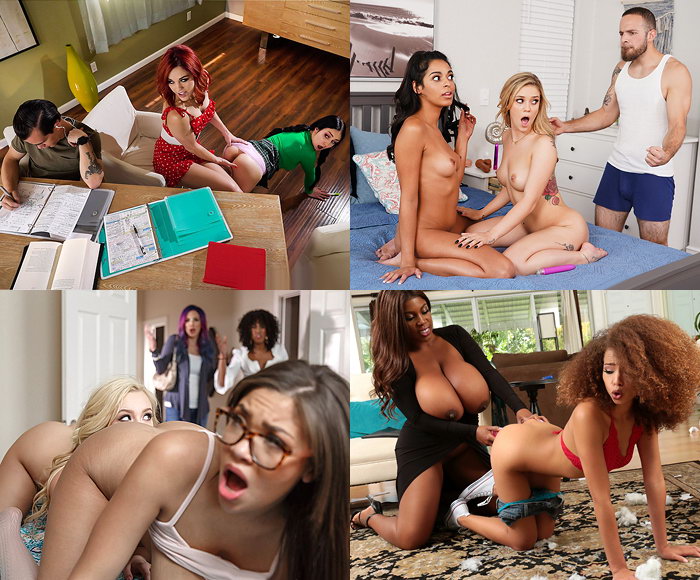 The girls look like a match made in heaven as they continue to make each other come. Both of them know that this will last until they are sweaty and unable to move a muscle. The last thing on their minds is what would happen if someone would figure out what is going on! It's all about enjoying the moment they will both remember until the end of their lives. That doesn't mean this is their last sex session, but this excitement is something they won't ever forget. Obsessed with her giant tits, young dyke makes a break to play with them before it's time for the final round of their lesbian adventure. Now the naked girls are scissoring as their massive boobs are bouncing on the bed. They even manage to cum at the same time! Everything feels better than a dream, as they are spending the last drops of energy in their bodies. Slutty mature now knows what she was missing all these years. She still loves dick, but the smell and a taste of young pussy is something that will always get her going. She doesn't know how, but she will do anything to spend more time with her daughter's friend as they have so many things to try! Don't miss this hot rough lesbian sex!