This hot sxy babe has a unique work situation – her pay is amazing and she can't stop fucking her boss. They spend a lot of time together alone, and once they started hooking up, they couldn't stop. Holy fuck she looks extreemely hot dressed in her working clothes, mmm, black LINGERIE and these long shapely legs in stockings and heels, being fucked by her boss in the office. The lines of passion and professionalism are blurred to a point of no return. And that hot and wet BJ in the office….MAGNIFICENT. The way this gorgeous woman taking his hot cum in her mouth is simply wonderful. Then we see her naked in the shower. The sight of all those soapy suds dripping down her booty is really arousing. Those lovely tits perfect in shape and size, the softly rounded hips, the firm round butt and her sweet shaved wet pussy are simply divine. Once she gets the chance to pull her boss into the pool, she immediately does so. This kind of determination truly is admirable! However, as soon as the man gets his body all wet…she starts sucking on that big fat dick of his, which doesn't come off as a bit of a surprise for some reason. The sexual tension between these two is apparently super thick. Now, at some point, this gal will get her boss inside of her home, there the hot blonde pulls his pants down and starts sucking him off, and the only way he responds is by caressing her head. Now, when the warm-up is done, they will start having sex…proper sex. The sexy babe gets on top of him and starts riding that big fat cock in reverse cowgirl while moaning and staring at her crotch, looking at that cock as it enters her pussy nice and deep. She then switches it up a little bit and starts bouncing her booty in reverse cowgirl on that big fat dong and moaning quietly. Then, her partner puts his arms around her and helps her bounce those hips up and down nicely while he penetrates her. His grip around her tightens, and the stud starts moving his hips. He thrusts deep inside of her wonderful cunt and messing her guts up really bad. Now, it was time for both of them to let their hips rest for a short while, and this is why this girl right here got the chance to lay back on the bed. This dude starts eating up on her smooth pussy with his hands roaming up and down her perfect body, then fingering her pussy nice and slow. The naked girl starts twitching all over the god damn place and moaning very loudly.

BEAUTIFUL YOUNG WOMEN IN THE BEST HARDCORE EROTICA: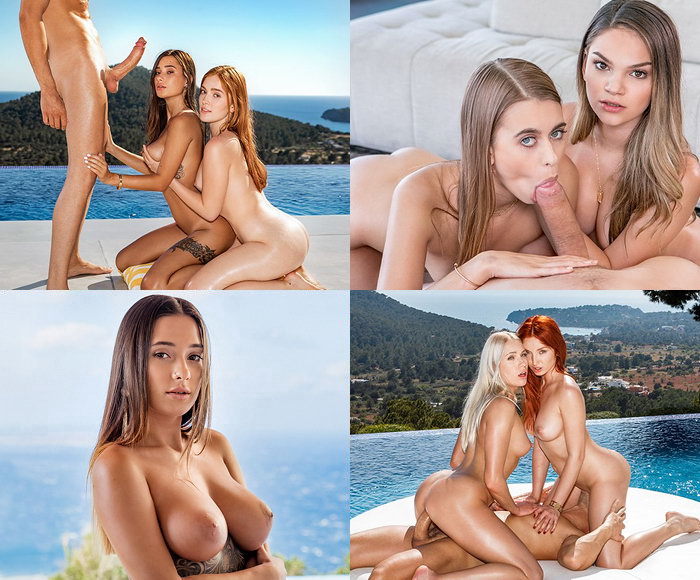 He then drills her in the missionary position, driving his huge cock deep into her clutching cunt. After some time passes, this babe finds herself pressed against the wall, taking his giant dick nice and deep. Then, she gets one of her legs up and starts moaning as that dick penetrates her tight little cunt. She stares back at her man while he drills her hole, and she moans loudly. She decides to get right back on top of her man and starts reverse cowgirling that big cock while moaning. She lifts herself up and pushes down with all her might onto his huge cock over and over and over. Her gorgeous body begins to shudder, and her cunt muscles begin to twitch and convulse. She begins to shout as she drives her cunt down hard on his cock, cumming loudly. Her tits bounce all over the place, and she rubs her clit every now and then, but her hands always end up gripping onto her man's firm muscular forearms as she just can't control herself! Hot naked babe bends over on the couch , and as soon as her boss grabs that big fat butt of hers, he starts savagely pounding her from the back and making her scream from the intense pleasure that she's feeling. She can barely stop herself from shaking, but her lover just won't stop pounding away at that tight little hole. It must feel amazing to be deep inside this beautiful woman and cover her face with cum. She is such a cute little cum whore and Johnny always does an awesome job of fucking them.