I went jogging out with my beautiful girlfriend, she is this naughty black-haired babe with a petite body, perky tits and the naughtiest personality ever. We decided to have some fun on this run so I brought a remote-controlled vibrator to try on her. She didn't need much convincing. My babe was so kinky she was ready to try it on right there while running. I watched her do a short but sexy striptease, where she took her shorts and panties off, showing me her young and tight pussy before she took the toy I brought and put it inside of her. I immediately turned it on and, just as I did, she dropped down on the ground, shaking in pleasure, unable to control herself. I helped her stand up and get dressed, leaving the vibrator inside. We continued to have the most amazing jogging exercise ever. Every now and then I'd turn the toy on and watched her squirm while screaming in pleasure. By the time we got home, both her panties and her shorts were soaking wet. Looks like she enjoyed the jog even more than I did. My girlfriend lied on the bed on her back, stripping completely naked but keeping the vibrator inside. I got hard watching her cunt become dripping wet, soaking sheets and her thighs as she kept cumming from the sex toy. Pussy juices were running from her hole! At one point she pulled it out but continued to finger herself, loving the mess she'd made. Unable to resist anymore I approached her with my massive boner and she immediately started slobbering all over it. Horny little minx that she is, she had no problem swallowing my whole size, letting me fuck her throat and choke her with my stiff rod. After making my cock all wet, slippery and rock-hard, I wanted to have a taste of her, so she lied back and spread her legs, letting me fuck her with my mouth. My girlfriend had another earth-shattering orgasm on my tongue before we were ready for a hardcore fucking. Without moving her, I just stood up, grabbed her legs and impaled her balls deep on my massive meat, right off the bat. My babe was rubbing her clit as I kept pounding her cunt deeper and rougher with every stroke, eventually going so hard her whole body was shaking and my girlfriend was screaming in pleasure, cumming yet again, squeezing my schlong with her pulsating pussy.

THE MOST CRAZIEST ORGASMS EVER CAUGHT ON CAMERA: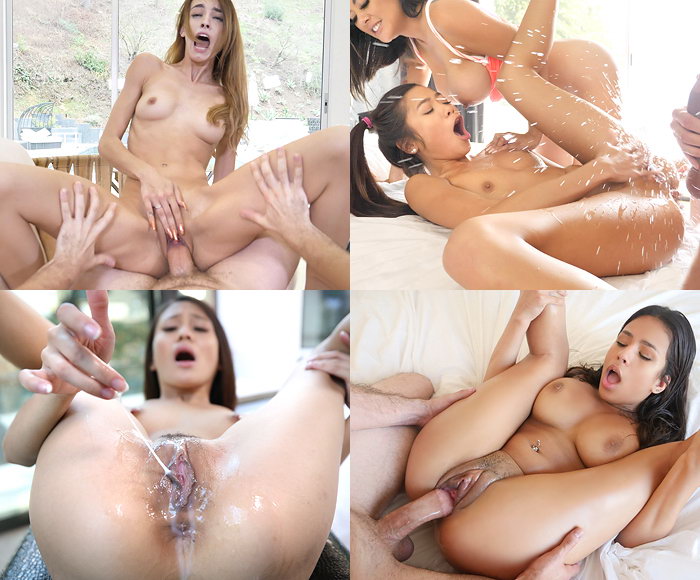 The sound of my hips smacking into her nicely rounded ass cheeks and the sight of my cock brutally pounding in and out of her cunt were amazing, but she still couldn't seem to get enough of the now extremely rough sex. She gasped as I pumped into her with deep, hard thrusts. However, we were nowhere near finished as we kept switching positions and going at each other harder than ever. First, I took her from behind while lying on our sides. My girlfriend again was screaming to be fucked, she turned into a whore and wanted more of my cock. I put my hands on her tits and squeezed them. I was caressing her body, her beautiful round ass, sexy slim legs, perfect breasts hanging there. My balls were slapping so hard against her pussy lips. I pumped her to another orgasm before she climbed on top of me. She sat up, my cock disappearing inside of her wet cunt. Her juices were flowing all over the place as she first rode me in reverse cowgirl before turning her front towards me, letting me watch her perky tits bounce up and down. I grabbed her ass as she rocked back and forth on my dick. She couldn't stop squirming as her orgasm became a continuous flood of lust. We ended up fucking in many different positions and she came screaming numerous times before I sprayed thick, white jizz all over her.