My girlfriend had her best friend come over for a movie night so I went to her room to check in on them. Turns out it wasn't an ordinary movie night as the girls were all busy watching porn. The girls saw something new in the porn video and decided to try it right there using me. I lied on the bed between them, they were already really turned on so it didn't take long before I was watching a live show with two sexy girls kissing and stripping right in front of me. Both girls were fully naked now, they had some hair down there. I like hairy pussies and I wish more of these beautiful girls would let the hair grow out on their pussy. My girlfriend is a stunning blonde with perfect, tight body and perkiest tits ever. Her friend is equally hot, skinny brunette, as cock hungry as my girl. I watched their soft lips all over each other as my girl had my rock hard cock in her hands, slowly jerking it off, making me ready. Suddenly, both of them put their mouths on my shaft at the same time. It was amazing feeling two beautiful faces kiss, moaning in pleasure all hot and horny, with my member between them. I decided to let the girls do all the work as I leaned back with my arms behind my head and enjoyed the sensations of their mouths as they took turns bobbing their heads up and down in steady rhythm. I was receiving the best blowjob ever, with two babes slobbering all over me at the same time. Then, they started taking turns, one would choke and drool on my shaft as the other would take my balls in her mouth and suck on them, licking them with her soft tongue. My girlfriend ordered her best friend to tongue my balls as best she could. The sensation was unbelievable. After such a hot and steamy blowjob session, the naked girls were both dripping wet and needed no more foreplay. The brunette simply climbed on top of me, in a reverse cowgirl, and immediately slid all the way down, taking my whole length balls deep in her cunt. It was awesome watching my girlfriend firmly hold her tight butt and force her up and down, helping her impale herself harder and deeper with every stroke. The girl was screaming and moaning, losing her breath from all the riding and pleasure before they switched.

THE HOTTEST YOUNG GIRLS CAUGHT FUCKING IN SNEAKY PORN: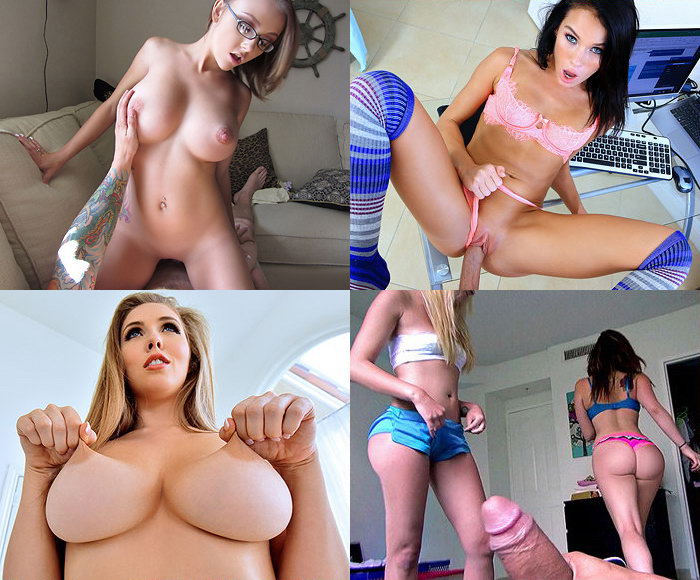 Now, my horny blonde girlfriend was riding me the same way, with her brunette friend resting besides, sucking on my fingers and watching us enjoy each other. When my girl turned around, her friend helped her reach an explosive orgasm while riding me by rubbing her clit at the same time. I could feel her pussy pulsate with my schlong, stretching her whole. Not wanting to disappoint any of them, we switched again. Brunette bent over and presented her warm snatch for me to pound doggy style. My girl loved watching as she kept spreading her ass as wide as possible, allowing me to enter her deeper and see her tight asshole. After making her friend cum I took my girlfriend again, slamming her the same way, impaling her doggy style. Watching her lick her friend as I was inserting myself deeper with every move was ecstatic. We kept changing positions as we all wanted to experience as much as possible. Girls came multiple times, dripping and pulsating on my meat before I reached my limits too and shot a huge, sticky load all over both of them. I had never cum so hard or so much in my life. I smacked my cock against their lips, sat back and watched the naked girls kiss.