Young brunette is not a material girl by any means. While her girlfriends ask their boyfriends to buy them expensive clothes or take them to European vacations, she is much more humble. The thing is, her happiness depends only on one thing, and that is the size of a cock. Her tradition is to fuck on the first date as she can't be with a guy that is not able to satisfy her well. Luckily, she found a stud that can deliver, and even better, like her, he is into public sex. There is nothing better than fucking in the places where you could be caught. This time, the teen slut is dropping her panties in the car, as her lover is rubbing and fingering her young pussy. That is the best feeling in the world for her as she stuffs a remote vibrator in her snatch, shaking as she cums. There is another thing with her guy, and that is his willingness to share her. As your typical nympho, this girl needs more than one dick in her life. It's nothing personal, as she still loves her man. It's all about her needs as they pick an older guy willing to go inside of her and help her break the record for the number of orgasms she has in a day. Things start well, as she is impressed by the size of his dick. She is almost out of breath as she impresses him by deepthroating it. Even though her experience is considerable, this is always a challenge, especially since she is coming all the time as a remote toy is still inside of her vagina. Sucking a cock and at the same time having a vaginal orgasm are indescribable sensations. Drool running down her face and onto her belly. Her boyfriend turns on the sex toy buzzing inside of her vagina and the girl keeps writhing uncontrollably on the floor, gasping for air, her legs are shaking. Her body is feeling things she's never experienced in her life. Once she lies down on the floor the man kneels between her spread legs and starts licking her pussy. Holding on her legs he rams his hard cock into her snatch and starts drilling her on the floor. Her smiling is telling that he is doing a fantastic job as she is the one controlling the pace while in a missionary position. Thankfully, they are alone in the house as her screams are so loud they would walk up the dead. Still, that only inspires her lover to nail her even deeper once they are in a doggy style position.

THE MOST CRAZIEST ORGASMS EVER CAUGHT ON CAMERA: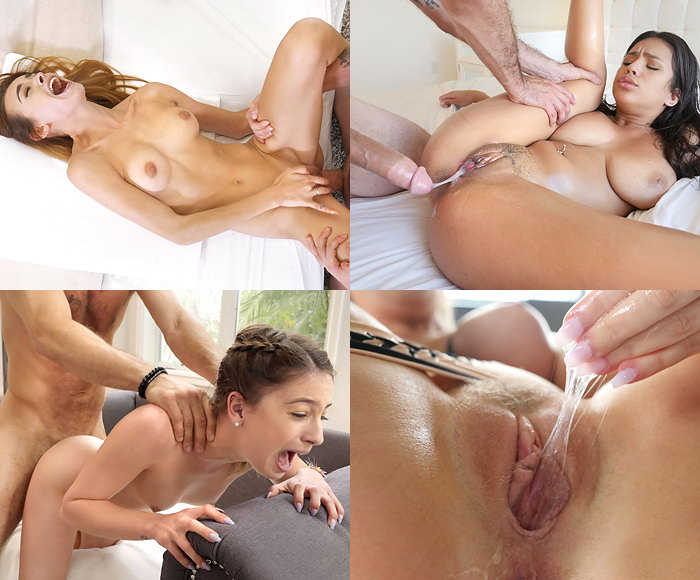 The young slut also begs him to go balls deep and make her come again. As soon as she has an orgasm, she is back for more. Even though she is all sweaty and tired, she won't give as she rides his dick reverse cowgirl style, while rubbing her pussy at the same time. Her boyfriend loves watching his girlfriend get fucked by another man and hearing her cum over and over, have multiple orgasms. Using what's left of her strength, she continues fucking like there is no tomorrow. For this young whore, this is one of the best fucking sessions she ever had. "Oh, I'm cumming! Yes, daddy, yes, cum with me! Fill my pussy with your cum!" The young naked girl can't stop pushing herself onto his cock over and over. His balls are full of semen, and all of it has to come out, straight into her cunt. Spurt after spurt of his cum erupt out of his cock, filling her spasming pussy. She can feel each jet firing from his cock, and he can feel her pussy milking him for every drop he can give her. Her hips met him, her pussy grinding against him as she cums with him. Next time she wants to taste it and the little slut makes the older guy keep fucking her and cum in her mouth.