This mother and her daughter are not on good terms for a while. The girls have been having fights since the teen girl told her mom that she has a new boyfriend. Her mom never liked that guy, so it's no wonder they've been arguing about him. The mom was pretty clear that she doesn't want this guy in her house, but her daughter wouldn't listen anyway. The woman caught the teens kissing at the front door but she surprisingly calm, and even promised she wouldn't tell anything about this to her father. Still, judging by her facial expression, something was going on in her dirty mind. Young brunette with pigtail and her boy went to her bedroom, hoping that the coast is clear. After sucking his dick for a while, the young girl sat on his dick, riding it cowgirl style. She is quite a moaner, but it was hard to stay silent when such a throbbing dick is drilling her meat hole. Of course, that drew the attention of her mom, as she even peaked to see them fucking. Mature could feel her pussy getting wet, and she got her chance to make a move! Once her daughter stopped the action asking her boyfriend to go back to the car and pick handcuffs, the horny MILF knew what to do! She grabbed him, took him to her room, and stripped down in seconds. As she revealed her massive boobs, a young guy lost his words. He knew that this was unreal, a crazy situation that is wrong, but at the same, he couldn't miss this opportunity. After all, he needs to build a great relationship with his possible future mother in law! She started well, doing phenomenal titjob, which she turned into a blowjob. They both knew they don't have much time. That's why his young cock was inside of her pussy in a minute, fucking her doggy style. He showed no mercy as he drilled her snatch as hard as he could, while her fat ass bounced wildly. Her little squeal is so fucking hot.

THE HOTTEST PORNSTARS WILL TEACH YOU HOW HARDCORE FUCKIN IS DONE: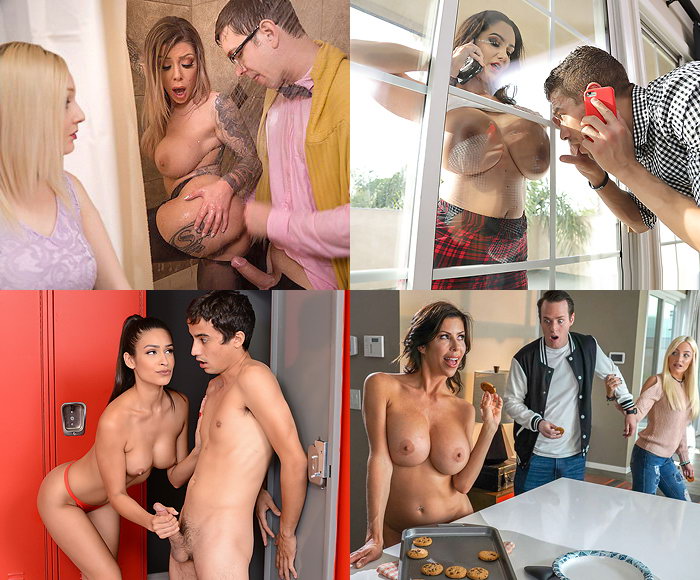 The sexy naked woman was enjoying every second, and she changed her mind about him. He is such a good fucker! Her HUGE TITS and BIG ASS make him crazy. Their dream had to stop once her daughter was at the door, asking her if she saw her boyfriend. Her slutty mom managed to deal with her and continue what she was doing. Under no circumstances, she won't let him go until he drills her properly and make her cum. Still, he managed to sneak and get back to his girlfriend, starting to bang her again. Will he be able to slip back and forth between both of these girls without getting caught? He was quite satisfied as he was able to handle two women at the same time. He has another skill, and that is time management. He knew the right moment to stop and go back to the girlfriend's mother, continuing to destroy her mature cunt. He decided to stick until the moment she was done with him, and then got back to the young pussy to unload his cum all over her pretty young face. This might be a crazy family, but he is happy to be a part of it! I'd die a happy man if I was able to fuck both these women one after the other.