Since his dad remarried, young guy got a hot stepsister. She always was mean to him, and unfortunately, he was right about her! As he was sneaking back after a wild night, she caught him in the act. Even though he was begging her not to tell anyone, the little bitch called his stepdad, who said to him that he is grounded. He was forced to give up his car keys as his whole month was ruined. He couldn't do much but think about what happened and what is wrong with her. Still, a week later, she was the one doing the sneaking, and he caught her. That was his chance to get revenge, as he was ready to call her dad. The busty girl was pretty desperate, so she asked him not to do it. The young guy was prepared to make a deal if she let him play with her tits. She was reluctant as, they were still stepbrother and stepsister, but everything is better than being grounded! He started squeezing her boob with one hand but his stepsister was willing to do even more, as she got down on her knees and started sucking him with passion. She looked so cock hungry, but the thing is, she was horny like never before in her life. It was not an easy task having it deep inside of her mouth, almost up to throat as she was choking on it. His slutty stepsister was slobbering everywhere. She sucked it so good that bubbles were forming around his cock. Still, he was obsessed with her tits and started fucking them as hard as he could, combining it with her cock sucking. He threw her on the bed, spread her legs, and plunged his head between them, licking her slit and licking it out, squeezing her gorgeous boobs with both hands at the same time. The girl was so wet down there that he finally showed mercy and put his schlong inside of her snatch. That was the best feeling in the world as he was sliding it in. She was tight, but he decided to go deep. Pushing her legs behind her arms, the naked girl spread herself wide and he pumped her cunt balls deep. Her pussy lips were shaved, but she had a patch of hair above her clit. Her horny stepbrother kept pounding into her hard and fast, causing her big tits to shake and bounce all over her chest. Whenever they needed time to rest, she was on top of him, letting him taste her pussy. She rode her face, twerking her fat ass on his face, she was gushing her juices all over his face like a ripe watermelon.

HORNY SISTERS AND BROTHERS IN FAMILY TABOO SEX SCENES: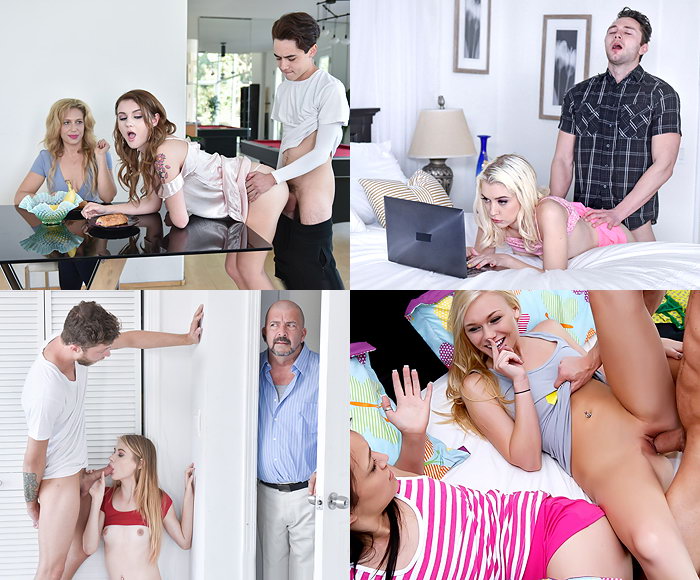 For the next phase, he chose to bang his hot sister doggy style, as she was moaning begging him not to stop. She was so loud that he had to shut her mouth. He fucked her faster, slapping hard against her soft ass. Her fat tits were bobbling back and forth. For a girl that loves to be dominated, that was another trigger to turn into a sex monster that was now riding his dick balls deep. Now her teenage big boobs were flopping up and down, making an audible slap. Her hips shook with pleasure and she ferociously moved her pelvis with every thrust, allowing him to go harder and deeper inside her. He grabbed her tits with both hands and kept nailing her missionary style. According to her wishes, he came straight into her pussy, as she felt his hot semen filling it. While still enjoying orgasm, she knew this was the right dick for her. Maybe what they have is forbidden love, but no one in the world will stop them from fucking in the future!