After he robs a bank and his car breaks down, this guy needs a place to hide out! He knocks on the door of the first house he finds and is greeted by a beautiful woman who lets him use her phone to call for help. He hangs up and looks for the woman, but can't find her, so he checks out her bedroom. He's quite surprised by what he sees when he opens the door. The young woman is dressed up in sexy black lace lingerie and high heels, holding a whip in her hand while she stands in front of a dude tied up to a chair and gagged! He tries to make a run for it but he's intercepted by the lady. He's hoping she will let him walk away, but she's taken an interest in the bulge throbbing under his jeans. The nympho grabs it in her hands and feels how big and hard it is, inviting him to the bedroom so they can play while her tied-up cuckold husband watches them helplessly! She's amazed when she sees just how big his cock is and gets straight to sucking it while her cuckold struggles to release himself from his restraints, but this hot wife knows how to tie a knot or two! He's not getting loose anytime soon! She humiliates her husband by telling the bank robber how much bigger his cock is in comparison to his. She strokes his cock with both hands and pushes it down her throat viciously. The crazy bitch looks over at the cuckold and orders him to leave the room, dragging himself out, still attached to the chair! She jerks his rod while licking his balls and he throws her on the bed, spreading her legs and eating her out. He stimulates her clit with the tip of his tongue and she keeps her pussy lips spread with her fingers for him. Then the hot girl strips naked as she climbs on top of his rock hard cock and impales her tight pussy on it, taking a wild ride in cowgirl position. What a hell of a woman! Super sexy! Her tits are big and ripe and he grabs them as they bounce up and down. He fucks her sideways while they spoon and make out, massaging her clit with his fingers and shoving his tongue inside her mouth. She massages her pussy with her hands too, before moving back on top of him.

CRAZY SLUTS DOING INCREDIBLE THINGS WITH HUGE COCKS: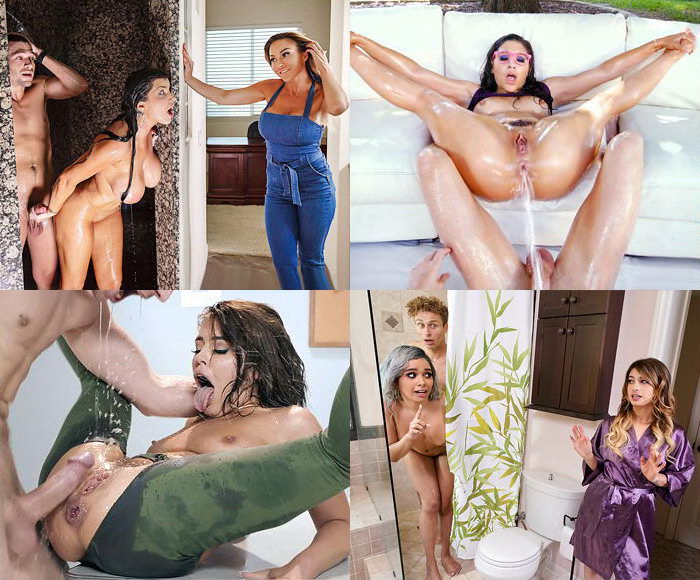 He pushes two fingers into her cunt and starts finger fucking her. Between her moans, she gasps from the sudden intrusion into her snatch. His hand quickly makes her squirt! She has never had a squirting orgasm before! She is cumming like she has never came before, juices gushing all over his huge cock as she writhes in ecstasy. He takes her juicy ass in his hands and holds it firmly, impaling her hard down onto his amazing erection. The young naked woman rides his huge cock, grinding her cunt vigorously, screaming loudly so her cuckold husband can hear her from the other room. He clamps his hands around her waist and presses her hot naked body against his, then flips her over still impaled on his dick and the perfect naked girl rides it in reverse cowgirl position. She is simply amazing! While he's fucking her in missionary, he considers calling off the help so he can stay over at the hot wife's home and keep banging her brains out! Her cuckold husband probably won't mind anyway!