You dudes are no strangers to being complete perverts, and it's no different with this little guy. He's just minding his own business when he hears some moans coming from his stepmom's bedroom. He gets curious and decides to peek. He sees not only his mom naked but her old college roommate as well. The girls are both extremely hot and they seem to be making out. The more he watches the more the situation gets out of control with these two babes having some hot lesbian sex. What would you do if you saw two hot naked women in a scissoring position and thrusting their wet cunts against each other? The lesbians lick each other and the little guy just stands there and keeps watching. After a steamy sex session, the stepmom's college roommate went to take a shower before another round of pussy licking. While the beautiful naked woman showered, the little dude sneaked into the shower and grabbed her gorgeous ass, rubbing it with both hands. Thinking that this is her friend she turned and saw that it is her pervy stepson grasping her ass with both hands! The lesbian tried to deny his young hard throbbing cock but it didn't take long for her mouth to water for his member! The sexy naked girl got on her knees and took his penis into her mouth, she hadn't sucked a cock for so long! Her mouth watered as she remembered the taste of a cock. The little dude was already going to fill her mouth with cum but his stepmom went into the bathroom and interrupted them. The girl had to hide him behind the curtain and the little dude decided not to miss the opportunity and thrust his dick into her cunt while she was talking to his stepmom. Her eyes went wide as the forgotten feeling of a real cock was presented to her. Without wasting time the boy started fucking her balls deep form behind. Something was wrong, his stepmom pulled the shower curtain back, and caught the little pervert with his cock up her lesbian lover's cunt! She caught them mid-fucking, but to their surprise, she wasn't mad… she wanted to join! Let the fucking begin! What really happened was that the naked girls were so horny and they just needed some hard cock inside of them, and it didn't matter where that cock came from. Both naked women began sucking his cock and licking his balls right there in the bathroom. "That's it, my little lesbo bitch. Cock isn't so bad for a lesbo" Another great threesome scene! These girls are so hot, love watching them suck cock.

THE HOTTEST PORNSTARS WILL TEACH YOU HOW HARDCORE FUCKIN IS DONE: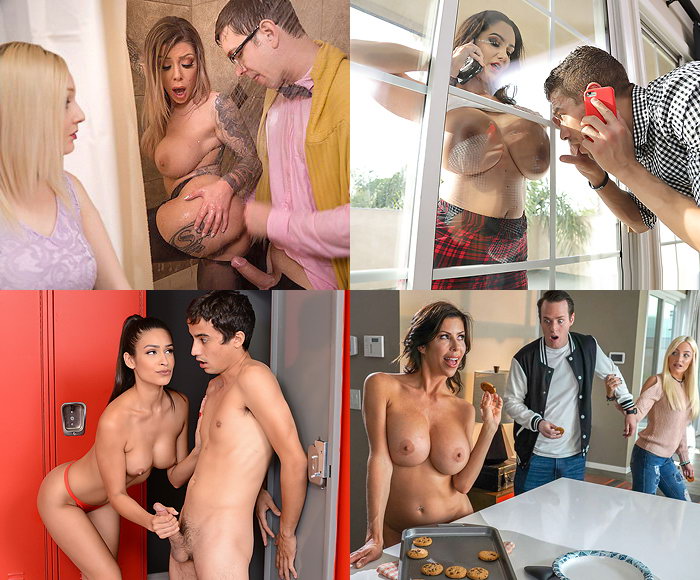 Once back in the bedroom, the naked girls pushed the boy onto the bed and began riding his cock together. The stepmom's friend immediately jumped on his cock as she stood and pushed her cunt into her face to lick. The lesbo hungrily lapped at her pussy lips, and ran her tongue up and down her clit while the dude kept fucking her own cunt. She loved the feeling of his cock inside of her and it only started to get hotter and hotter as time went on. The stepmom wanted some of that action as well. When he was busy licking the friend's cunt into 69 she got the opportunity to impale her cunt onto his swollen meat and ride him as well. The beautiful naked woman rode him like a cowgirl and jumped up and down like she never did before in her life. Both of the girls seem to be bi in nature but they can't seem to resist a good cock when they see one. They didn't want to miss this opportunity so they kept on going harder and harder. Each of them took several opportunities to bounce on his dick. This takes the naked girls back to the days of college when they would have orgies pretty much every night in their dorm room. It only seems to be a matter of time before the little dude ends up cumming all over two beautiful women, leaving them kissing with his cum all over their faces.