This beautiful babe is on her wifey vibes and wants to cater to her man. She is blond, tall and slim, has a tight ass. She is on the balcony dressed only in panties and a tight cropped t-shirt. Their dinner has got to wait because naughty girl wants her dessert before the meal. After teasing him with her perfect firm ass and her breasts, she finally reaches for it with her hand, rubbing it along the length, asking him to suck his cock right there on the balcony with a beautiful view. Permission granted, so the sexy blonde is already on her knees and takes it in her sweet mouth. She is the kind of girls that love to suck, especially since his schlong is so massive that it's a challenge to fit it inside her little mouth. You could see on her face that she enjoys and doesn't care if someone sees them. The action continues in the living room as she is still obsessed with cock sucking. Finally, he moves her panties to the side and starts impaling her tight wet pussy. Her moans fill the room so by know, neighbors must know what is going on. He enjoys the view as he can see his rod stabbing her balls deep. Awesome panty fuck! She is sexy as hell, pushing her amazing ass into his crotch, grinding that perfect, firm ass. Minutes later they are on the couch as her pink panties are still on her. His gorgeous girlfriend rides him cowgirl style gently rocking back and forth against his cock, grinding her wet pussy up and down along the length of the shaft. This is her favorite position, as she enjoys watching her man while acting like the dirtiest slut. They have incredible chemistry since day one, and it shows as she sits on him reverse cowgirl style. She likes it rough, so even when his whole dick is inside of her, she still needs more.

HOT NAKED GIRLFRIENDS IN THE BEST LEAKED SEX TAPES: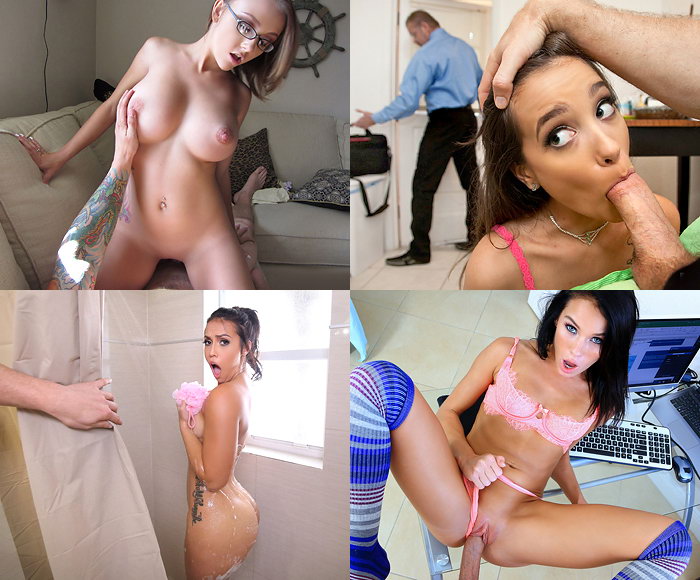 That's why she is slapping her behind. Lusty blonde won't tell him that, but sometimes she dreams about a threesome or being gangbanged. It's her slutty mind that always demands more, and sometimes it's hard to control those urges. When that happens, she asks him to fuck her brains out as she is doing now. The blonde beauty is now like a wild animal that's unable to think straight. She came at least five times, but she needs more. Her lover knows that as he is trying his hardest not to shoot his load. She asks again to suck his dick, this time to check what her pussy juices taste like. After that, she shoves his boner back in her pussy as she takes it doggy style. His naked girlfriend can't stop moaning as he goes balls deep into her cunt while holding her ass cheeks wide apart with both hands. Her gorgeous ass is stuck out in the sexiest way. That's the moment when he can't control himself anymore as he comes inside of her. As semen is running down from her snatch, she is barely able to walk. She feels proud of her achievement but already thinks about their next steamy session.