Girlfriend got a present from her boyfriend in the form of a remote control vibrator and she was more than ready to use it for the first time. The slim beauty pulled down her pants and panties so that she only had her bra on. She kept on teasing him with her ass, her cute little ass. It wasn't long after that that his girlfriend took all of her sexy lingerie off so that it was just him and her naked body in the room. The teen girl wanted to try that remote control vibrator out and so he shoved it up her pussy and started toying with it for a bit. He put it on various setting and it was getting pretty close to making her cum. Little did she know, that the vibrator wasn't even at its full potential yet and when the boyfriend cranked it up to the maximum that's when she really started having those orgasms. They were happening left and right and she was orgasming so much that she didn't even know where she was at this point. The amount of pleasure that she was feeling was far beyond what she was expecting, and whenever she feels like this she makes sure to return the favor tenfold. The sexy naked girl got her boyfriend's cock in her hand and started sucking on it, running her tongue all over it, deepthroating it. She was so good at it that he felt his cock ramming the end of her throat and she wasn't even gagging. The naked girl started bobbing her head up and down really fast and he appreciated this gesture so much that he turned the vibrator on. She began to moan with his cock in her mouth. At this moment, she felt she was losing the control of her body. Her body began to tremble even more as she held back the orgasm. He pulled the cock out of her mouth and placed his naked girlfreind on the bed lying back down so that he could fuck her from the front. He started fucking her without any mercy whatsoever. She was being boned to the point of orgasming again and he was having none of her shenanigans this time since he kept all the power and he was the one controlling the situation. Her beautiful skinny body was trembling, schocking, quivering. Waves of pleasure washed over her. Her pussy was clenching around his hot throbbing dick. He couldn't help cumming in her. Her pussy was pulsating with a creampie. Cum was leaking out of her pussy. He pushed his dick into her cum filled cunt. Her whole body was so sensitive, she almost screamed, trying to pull away from him as he grasped her hips and kept fucking her balls deep. He began pinching and squeezing her nipples and leaving his marks upon her soft skin. She screamed his name, grabbing his shoulder hard, thrusting her hips upwards. Her orgasm was so intense, she couldn't stand it any longer. He turned her over and began pounding and cumming in her from behind.

GIRLS CONVULSE AND SQUIRT FROM AMAZING ORGASMS: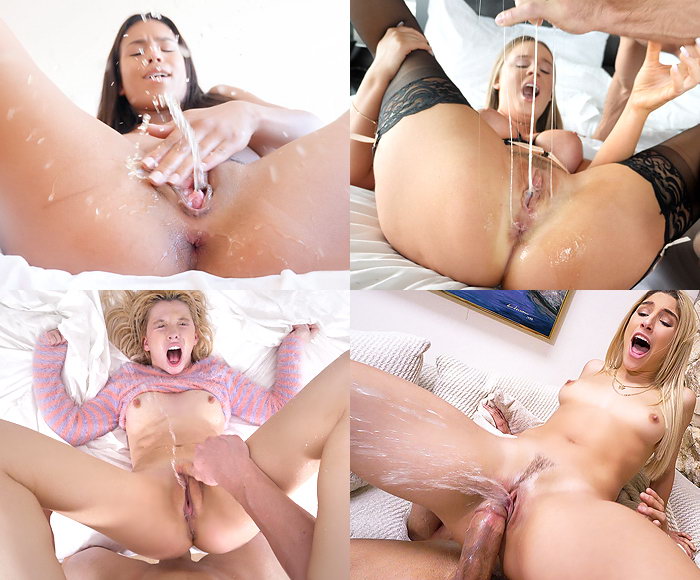 His gorgeous girlfriend moaned and gasped and arched her back up to him. Her legs really started to shake and she knew couldn't stop cumming. This young naked girl just couldn't control her body any longer. He held her hips tight as he pumped and pumped that big cock into her small body. Now it was just one endless orgasm without stopping. She just tried to lift her small ass up to meet his thrusts. His cum squirted out of her cunt with each thrust. He fucked her hard in several other poses as well and she was on the verge of tears from how much pleasure she was feeling during this entire fuck session. Every touch of her clit against his cock brought his girlfriend to the edge of climax and back again. Each time she came he pounded harder into her pussy. Just as she just couldn't take anymore, he was done and he ended up cumming all over her. The naked girl collapsed onto the floor together, trembling and crying in orgasmic seizure. GirlCum features multiple orgasms in 4K HD. Watch as these young naked girls lose control of their bodies, convulse, squirt, and their pussy pulsate with creampies as they experience the ultimate pleasure in their sexuality.