Jordi was always a typical shy teenager, looking like a guy who'll stay virgin maybe even forever. He didn't care, as he has a father and a new stepmother he loves dearly. Still, everything changed on the day he turned 18. While he was getting ready to blow the candles, the creature who calls himself Horny Monster appeared telling him that he will be around all the times, while no one else will be able to see him. He explained that he is his alter ego, who will turn him into a sexual tyrannosaur in a matter of days. While his unsuspecting stepmom was cleaning the table, he convinced the boy to "feed the beast" and made him grab her booty! The MILF was shocked and asked him what he was doing. Still, when he pulled down his pants to reveal a fat cock, she stopped asking questions and got down on her knees. His penis straight up like a flag pole. Sexual Monster was right – she was the best choice for his first sexual experience. Blonde mature acted like she hadn't had a cock for a while, even stretching her mouth so he could fuck her throat easily. Who would have thought that a caring stepmother is such a nasty nympho who demands rough fucking? Jordi couldn't believe what was going on but felt thankful to his new friend. Even when his father appeared, he kept fucking her cock hungry stepmom hidden behind the wall while she was talking with him. It was so perverted and so wrong, but at the same time, his shaft was hard like never in his life. Once they were left alone, the hot woman demanded from him to go deeper and even slap her fat bottom. What she did next is to reveal her massive pierced juggs and finally get butt naked. She is a batshit crazy bitch, demanding that he spits in her mouth so she can use that to lube his boner once she starts sucking it again before he fucks her big tits. He is back in her dripping wet pussy while his whole hands are in her mouth as she begs him to slap her harder.

THE HOTTEST MILFS SHARE THEIR SEXUAL EXPERIENCE WITH TEENS: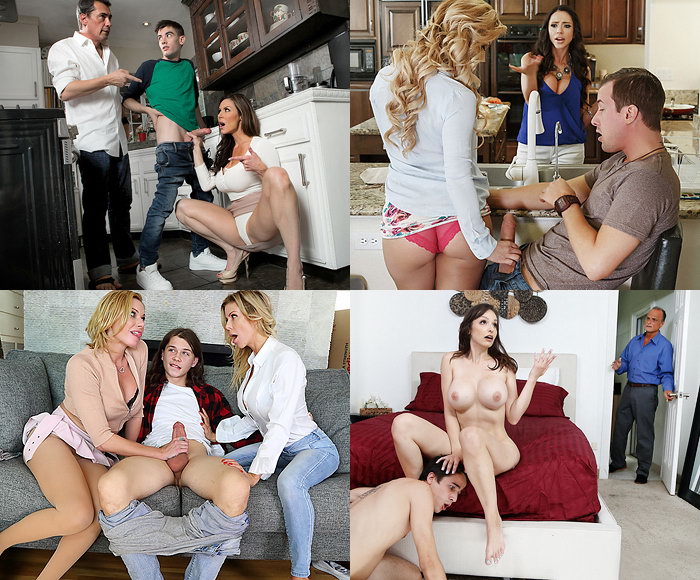 "I'm gonna cum many times on your fucking dick," the MILF says, acting like the dirtiest whore you'll ever going to see. The little dude never expected that, but he didn't mind as she was back on her knees, deepthroating him. "You are not such a virgin anymore" she yelled when he speared her pussy balls deep. The best is yet to come, as they climb on the kitchen counter she cleaned just minutes ago, as the gorgeous naked woman starts riding him reverse cowgirl style. Jordi has the best view in the world, as he can see and feel his king-size schlong is drilling her balls deep as her fat ass is bouncing. It's like he has died and is taken to paradise. Seeing a chick holding up the dude for the standing 69 is a hilarious and disturbing sight. He blasted out a torrent of cum, raining down white lines of sperm all over her happy face, spurting across her eyes, discharging into her open waiting mouth, bursting onto the tip of her excited tongue, lancing across her boobs, flying into her hair. Once he empties his balls on her pretty face, he is sure this is only the first of many sexual adventures with his stepmom!