She is a gorgeous young girl with perfect body, so it is shocking that any guy would ever cheat on her. But when she finds out she has been betrayed, the first thing she wants to do is get back at the bastard. If there's one thing that will make any boyfriend jealous as hell is if his girlfriend takes another cock instead of his. That's exactly what this girl decides to do. He wronged her and now it was payback time. She didn't know who else to pick for the job, so she ended up asking her stepbrother for assistance. He was shocked that she even suggested something like that but after a bit of convincing he decided to give in to her and allowed her to use his cock to make her ex-boyfriend jealous. She took his cock in her hand and then slipped it between her lips. His cock was in her mouth and she began taking some pics. Well, she just kept on going. She kept taking pics, and kept on taking them, and KEPT on taking them. The stepbrother wasn't sure if she was still in it just to make her boyfriend jealous or if she was just sucking him off. At one point his slutty sister put down the phone and it was all clear at that point. She just needed some hard cock and so she kept on sucking him off harder and harder. She sucked him off really well and in the end, he just couldn't take it anymore and he came inside his sister's mouth! She seemed pleased with the fact that he came inside her mouth and she spat it out on his cock with a smile on her face. The next day the stepbrother woke up with a huge boner and he didn't know what to do with it. He decided to sneak up on his sister while she was sleeping and put his cock in her mouth! He managed to do it but eventually, it woke her up and she was wide awake to see what he was doing. His sister was slightly shocked, but at the same time thought that what he was doing was really hot. He said that he thought that she would be willing to return the favor since he helped her yesterday.

YOUNG 18 YEAR OLD SISTERS CAN'T CONTROL THEIR TEENAGE SEX DRIVE: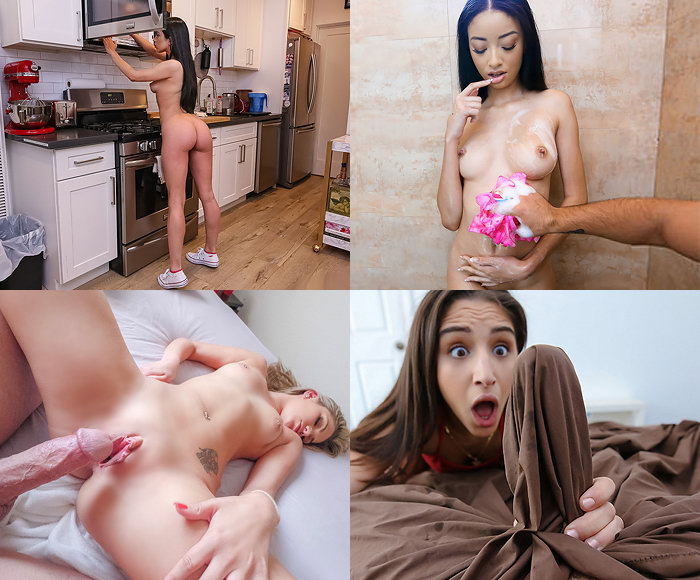 His sexy sister felt that it was only fair that she helped him out. After all, he did help her with her problem the day prior to that one, and it was the least she could do. There was another round of slobbery dicksucking. The sexy girl sucked him off just like yesterday and then decided that they could do something more. He was up for it and so he shoved his cock deep inside her missionary style. He was fucking his naked sister hard right omn her bed and eventually turned her around and started fucking her doggy style as well. He was going really hard and you could tell that she was enjoying herself. She moaned with each thrust, her eyes closed, not believing what was happening. His pelvis slamming against her ass as her brother thrusted in and out of her tight pussy. He ended up pulling out and cumming all over her bubble butt and she had a really wide smile knowing that she just pleased him. Later, after a night out with the girls, she came home horny and ready to fuck. Her step brother couldn't help but notice that she lost her panties! He couldn't help reaching between her legs and rubbing her lovely pussy.